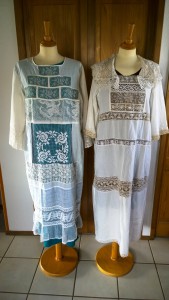 Those two dresses were the last things, I finished before the chill catched me. They are inspired by "The House of Eliott", Season 1.
I was longing to have dresses in that style. And it was a good possibillity, to use the filet-pieces I had collected for years.
I found it never easy to use them, filet is delicate and somehow difficult to work with, but I decided not to run away from that subject this time!
I also used some modern (but high quality!) batiste, pieces from a vintage curtain and lots of antique lace from my stock. Some of the lace and curtain are Art Déco, but others are Art Nouveau….But that´s no objection, because in the 1920s, dressmakers and cotouriers had no scruples to work with lace and fabrics from the decades before! They just used it in a complete different way with new patterns and styles!