You can enlarge the pictures, if you click on them.
This time no storyline, just a few sets I made about a milliners shop in the 1920s and another version from the 1950s…well, as good, as I could…I don´t have many items of the 50s nor do I have many matching cloth for my dolls from that period.
But it´s funny, how many 1950s hats I made…And I really enjoyed it. Seems, I like the hats from that time much more than the cloth…
I worked as a milliner myself for years and could use my skills, to make some nice hats for my little actors.
This time I had issues with the light again, so the pictures are not the very best and don´t ask about the problems, I had to prepare the set. In the middle of it, I found out, I had forgotten to sew some smocks for the milliners and the shop girl!
I hadn´t many time, so I couldn´t sew authentic smocks from the 1920s. (Smocks at that time looked more like Kasacks and were much longer with pleats.)
So I grabbed, what I could find on white fabric and made smocks, that can work in some different scenes in the future…even as blouses, if neccessary.
The next issue was to make some kind of hat-stands. With only a small amount of spare time, I took some vintage wood-spools  and a few metal bars, I had left over from another project. Not perfect, but they did the job. Maybe I find the time soon, to make better stands. But for now….
Now enjoy my little scenes!
Wealthy customers gather to see the new hats…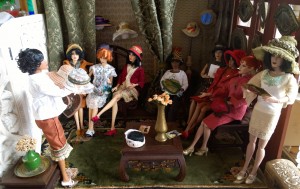 They came to see the latest Paris-style!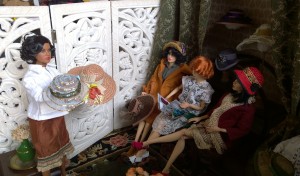 Some hats for summer partys!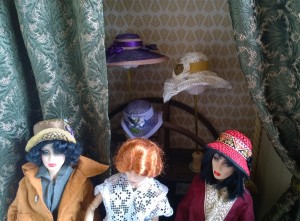 And some for every day occasions!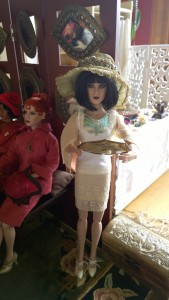 Does the hat suit me?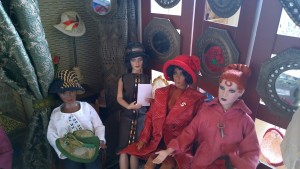 Show us more hats! But don´t forget, we´re very challenging!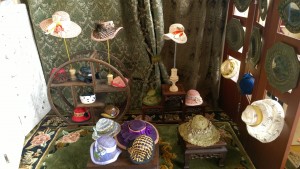 So many lovely hats to buy!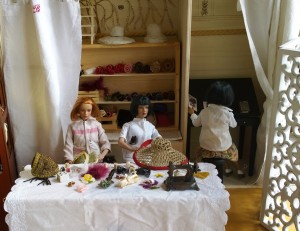 But there is always a less glamourous side of life…In the back, milliners work hard, to make their wealthy customers fashion dreams come true!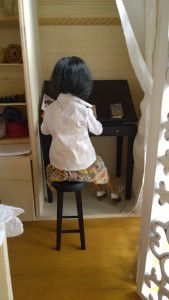 Some new hat designs to work on!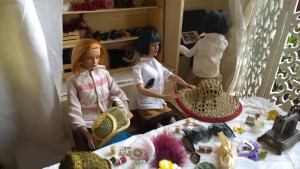 And hats to finish fast! Customers don´t like to wait…
Time goes by, fashion is different now, but in fact, nothing has changed…
A milliners shop in the 1950s: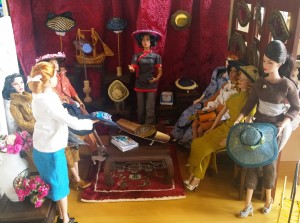 Wealthy customers gathered, to see the new Paris style…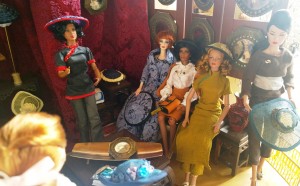 Some hats for Church and garden partys!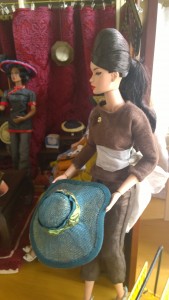 Does the new style suit me?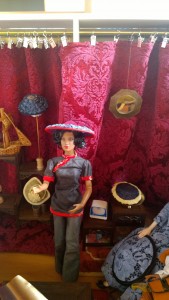 I love to wear chinese coolies!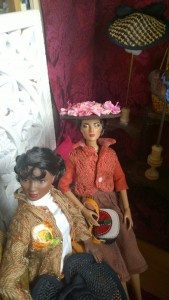 I prefer flower hats!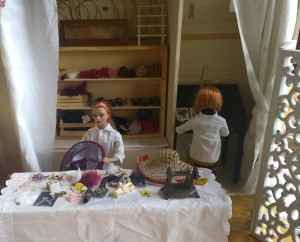 No, nothing has changed. There are still busy milliners in the back and work night and day on the dreams of their challenging customers.