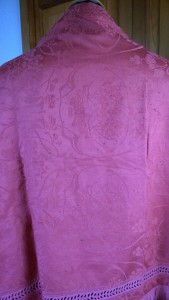 When I found this beautiful piece of art nouveau-fabric, I thought about using it for a skirt. But I never had the right idea about it, so it slept for a long time in my fabric-drawer.
One day I looked for something else, found this piece instead and realised, that it was not neccesary to change it that much….It could almost stay the way it was. All I had to do, was to dye it, because the original color was such a bright-and-shiny white, you could get snow-blind. And white does nothing for me, so I added on a bit of autum-red and use it now as a shawl or stole.
I confess, I never found out, what it really was in earlier days. Maybe a curtain for a kind of open drawer?
Now it´s a shawl and I love the intricate and beautiful pattern.