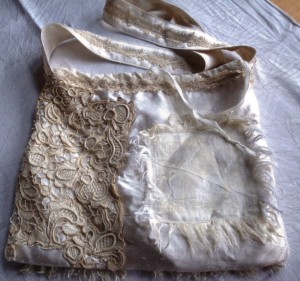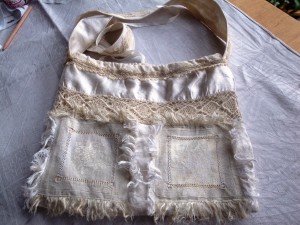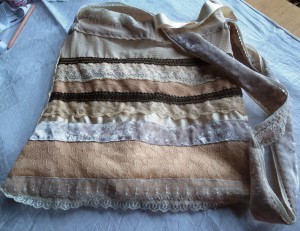 After I finished my Metropolitan-Project,  I found I had enough evening gowns for Christmas  and New Year´s Day, but no matching evening pouches…..
So running to the computer, get into the collection online, search for something suitable and stumble over some simple, but beautiful evening lace-bags.
Between 1905 and the early twenties, spanish-american socialite and lace-collector Rita de Alba y de Acosta (Rita Lydig) gave some items of her collection to the Callot Soeurs, in order to make coats, blouses gowns and some bags from. In 1953 her clothing and accessoires have been donated to the Metropolitan Museum in New York, and can now be seen on the web.
And Rita´s beautiful bags hooked me!
What most of them have in common, is a very simple pattern and shape, combined with precious lace, that was already antique, when the Callot Soeurs worked with. Some ot the pieces go back to the 17th or 18th century.
Of course I don´t possess such rare items….But that´s not important. I have enough vintage bits and pieces, to small for clothing, but perfect for a bag. And I don´t care, if there are holes or spots.
First I made a little off-white bag from silk scraps, vintage linen-coasters (or are they in fact small tea-napkins? I don´t know….), a piece of venetian lace and machine-made bobbin lace. The bag has no front or back, it can be used from both sides. This bag is very much in the same style, Rita Lydigs bags were made.
But I also wanted something more "spacious", so I sewed another bag from rags, different lace, gold-brocade borders and some pieces of 1950s lingerie-fabric.
Now the feasts can come….I´m prepared with my gowns, lace-poncho and matching evening-pouches.