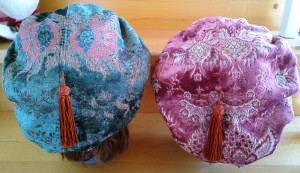 In series one of "The House of Eliott" Evangeline often wears a black velvet beret with two tassels and appliques. I adore that piece!
But it wasn´t the first time I saw it. Like so many clothing and millinery from  movies , it was reused for another series. So after the end of "The House of Eliott" in 1994, the beret  went to "Agatha Christies Poirot" and embellished the head of Zoe Wanamaker as Ariadne Oliver.  There I noticed it for the first time, wanted to make one for myself- And forgot it….
But this time I  wouldn´t let the thought slip out of my mind.
I had three scraps from furniture-fabric around 1960 or a bit earlier. The scraps have beautiful patterns and a soft velvet texture.
Perfect for two berets. The only problem was the much smaller diameter.   So my berets look different in shape. The crown is smaller and the band is wider.
I had no template, that was big enough, so I simply used a cake plate to help me with the pattern. Many kitchen-items are helpful for millinery or sewing!
What was left over, made (combined with other scraps from my stock) a crazy little bag, matching both berets.
Result: Zero waste!