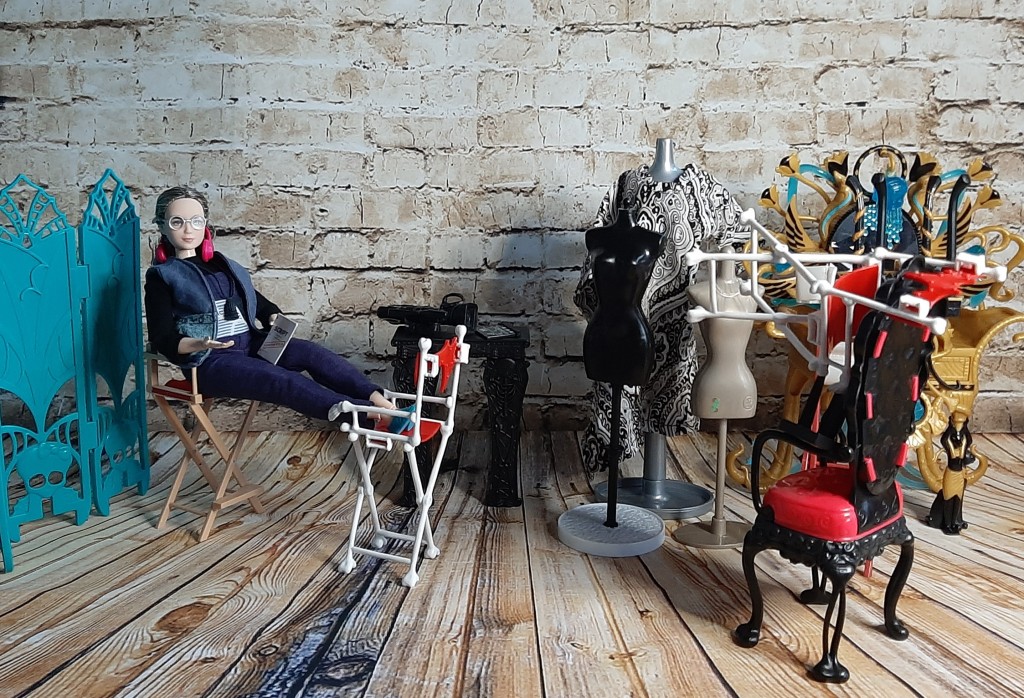 "Directing "can be very exhausting and tiresome. Especially, when you have to deal with unwilling actors.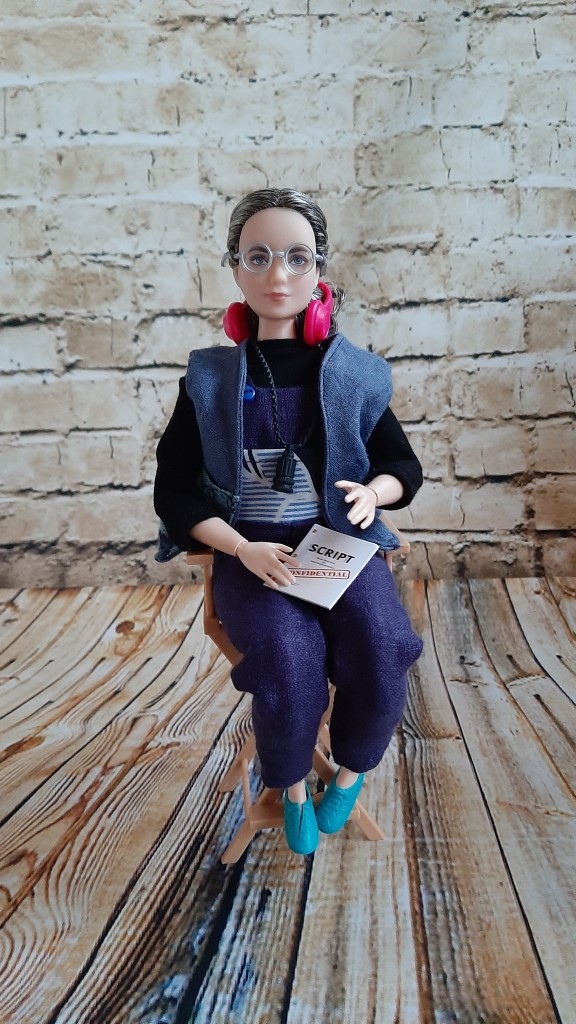 Last November, I hired two new actors for my humble little doll theater: The zombies Eliza and Zed.
I thought them a good addition for my werewolf and the three witches.
But as soon as they arrived, they insisted on going back home again. They told me, they didn´t know, they were send to Europe and refused to stay and work with us.
Of course, I rejected. A contract is a contract. They´re mine and will be for a long time, if not forever. So I found a cozy little catacomb for them, thinking of their special needs.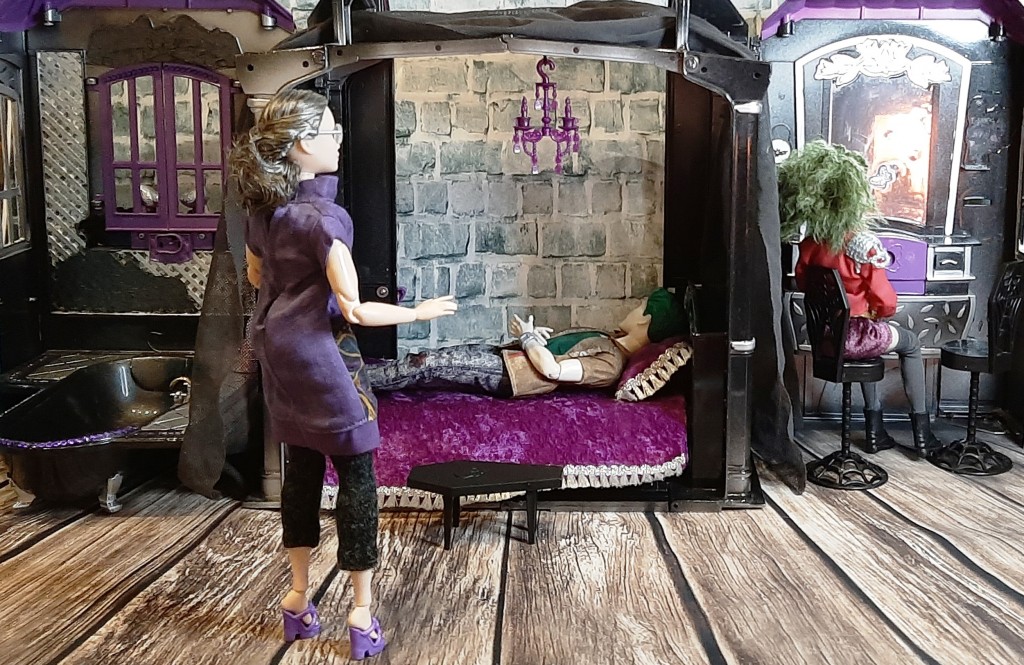 But both didn´t feel at home there. They turned their heads away and Zed murmured something about "Addison not here", while Eliza complained about "The flat being more shabby than the shabbiest Zombie-crawl space" and that she "wanted to know, who on earth made that weird design and who took her laptop!"
I tried everything to calm them down, but finally gave up.
I needed some help, so I called on two of my employees, Billy and Wynter Barkowitz, my werewolf. I know, both have a "sweet tooth", so I invited them to a  café, where we met late in the afternoon.
I told them all about my difficulties and they agreed to help.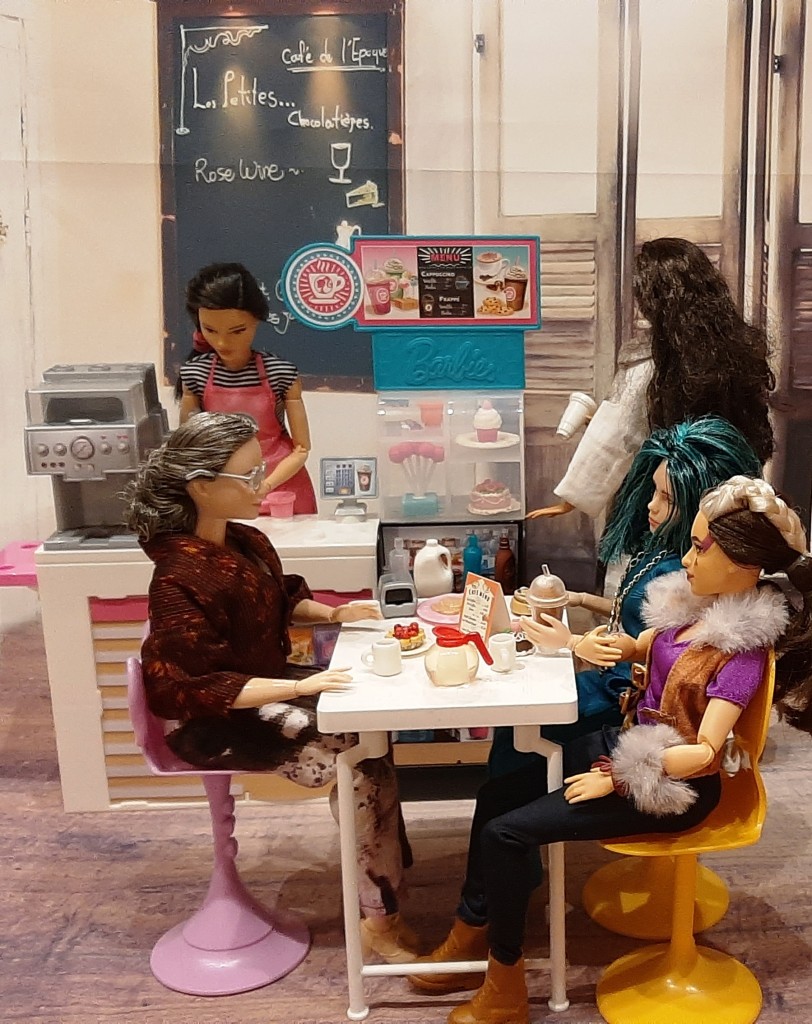 "You need to bribe them!" Billie said. "Both love cool clothes, but Zed is a bit more vane than Eliza. He will give in, if you let him have a bunch of posh fashions. For Eliza, it will be a new laptop besides the clothes, to make her stay."
"You´re a clever girl….That could solve most of my problems….But what about Addison?"
"Oh," Wynter said. "There I could be at help. I have a crush for the guy myself and when Addison  never turns up, it might be "out of side and out of mind" for her."
No danger there. Addison was never on the list of dolls, I wanted to engage.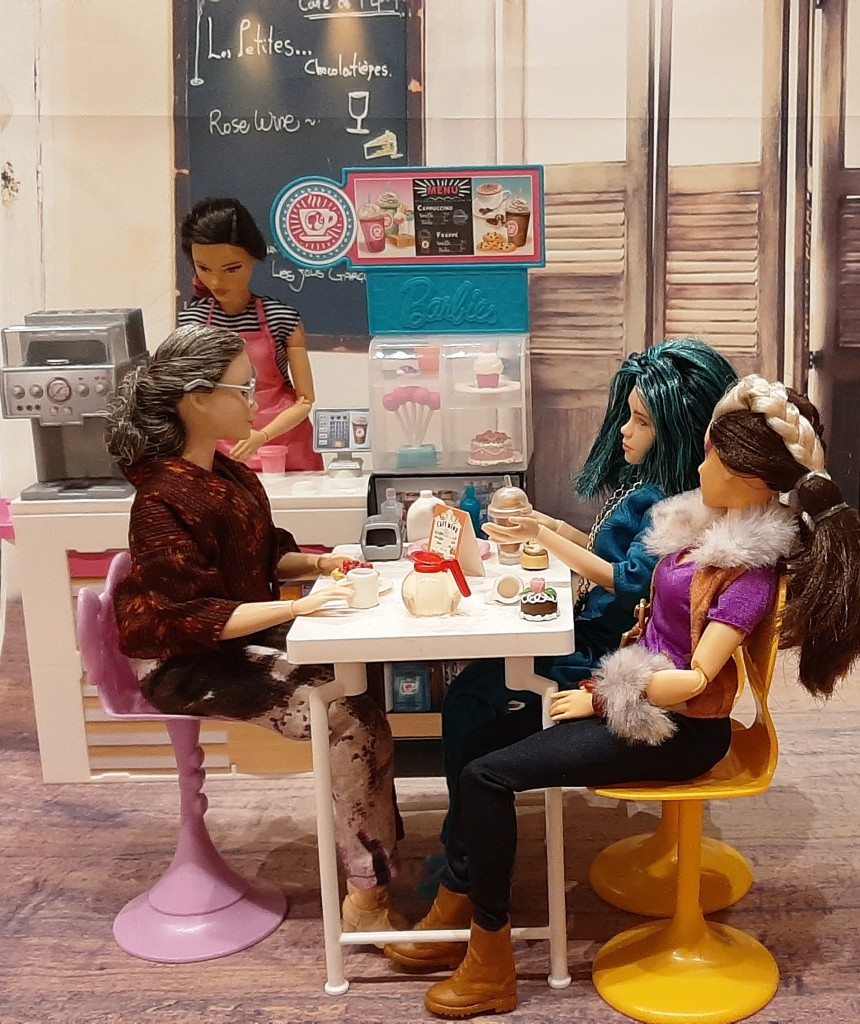 "So it´s settled", Billie said. "And we both would agree to go shopping with the zombies. I know a place, where dolls like us get everything we need."
Wynter smiled and her eyes brightend with exitement.
"There are just two little things: First, Billie and I won´t do it for free. We want some clothing too. And second, you have to pay for it!  So be a good director and hand over your credit card!"
She held out her hand, still smiling. I didn´t feel well with it…Cunning little blackmailer she is!
To hand out my credit card to a werewolf…But I didn´t have any chance. So I droped the card into her expectant palm. For a moment, there was a hint of greed in her eyes, but I decided, to ignore it.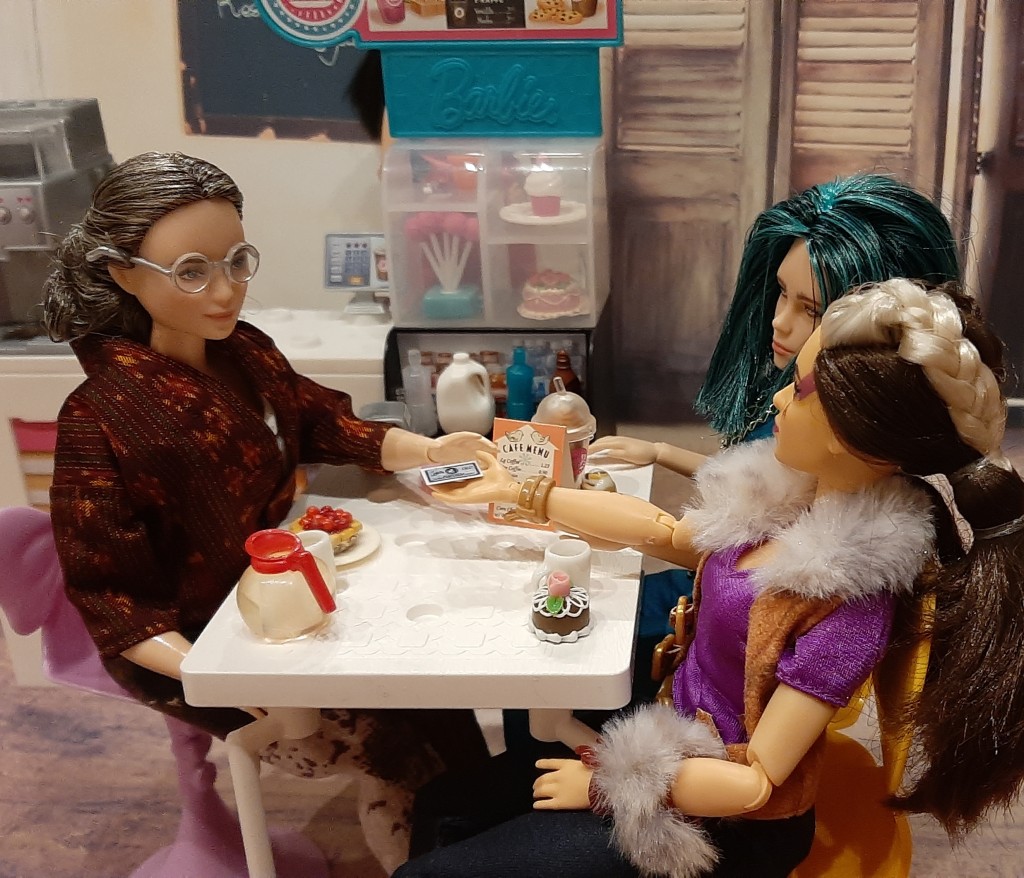 "I could leave earlier and get a laptop for Eliza, while the others go on shopping!" Billie said.
I aggred to that too. But told her, not to buy the most expensive model…I would have to pay for that later too!
Soon after, I left for my job and the girls waited until dark, to pick up the zombies.
The little boutiqe in one of the darkest corners of "Puppet Creek"  is called "The Cave". The owner is a smart little witch and so, with a bit of magic, the perfect clothes find their wearers rather soon.
The shop opens at twilight and customers come in during the whole night. You can imagine, what kind of customers that might be!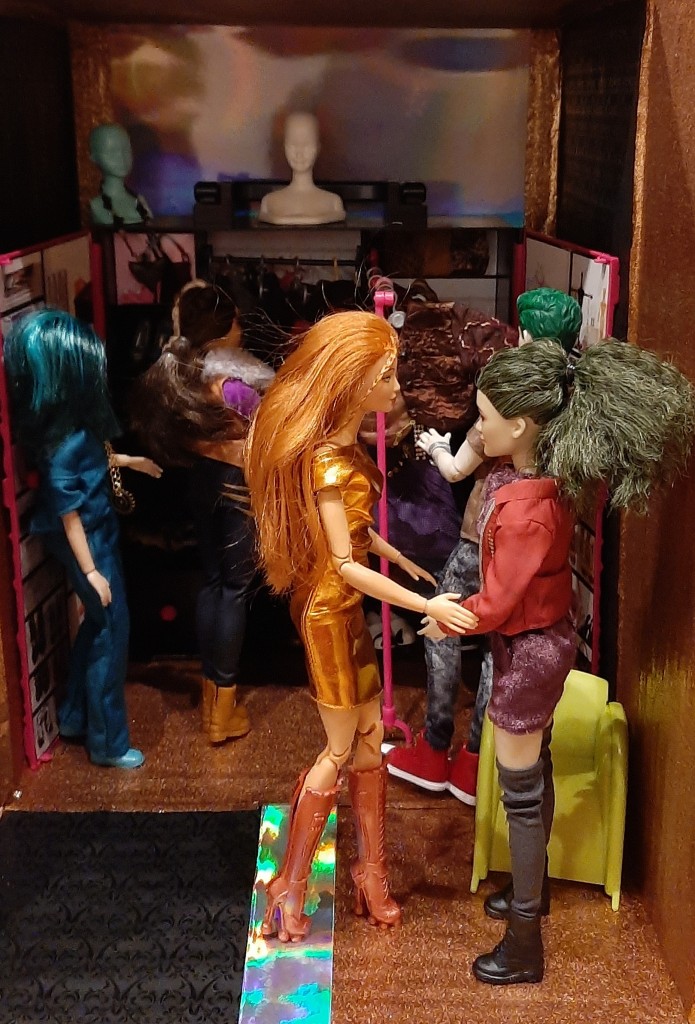 Billie and Wynter needed a lot of persuasion, to make the zombies leave their catacomb and stop sulking and when they arrived at "The Cave", Eliza was still unwilling. But the witch is clever indeed and she convinced the zombie quickly, to try her luck with the magic fashions.
Zed and the girls had already started to rummage through the rails and shelfes.
Then the witch had an idea: Why don´t they put up a little fashion-photo series for the generous and benevolent lady, who´s paying for all the fun?
That´s, when my cell-phone started to hum and every 10 minutes new pictures came in…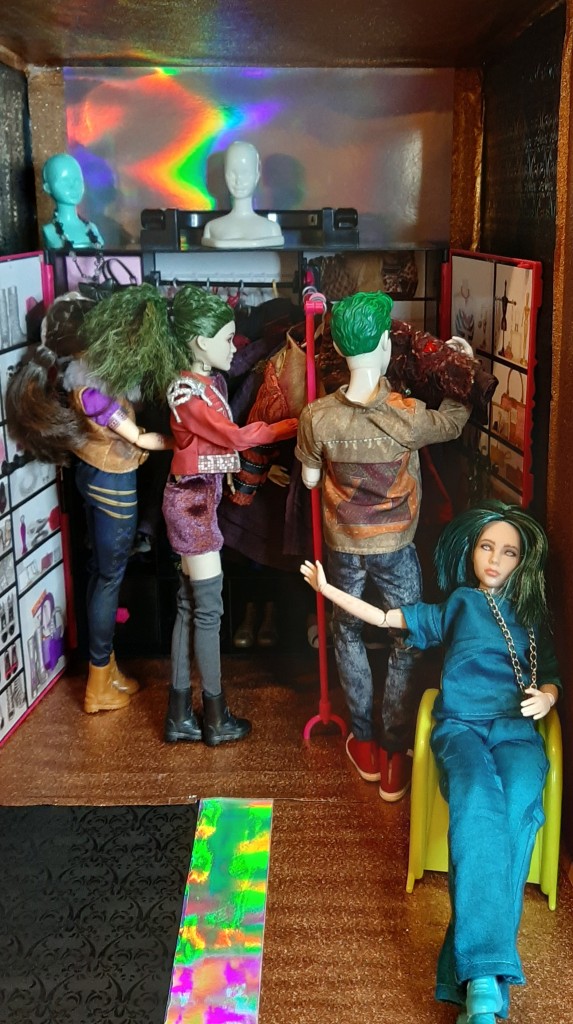 "Look at them!" Billie texted. "Gone totally nuts!"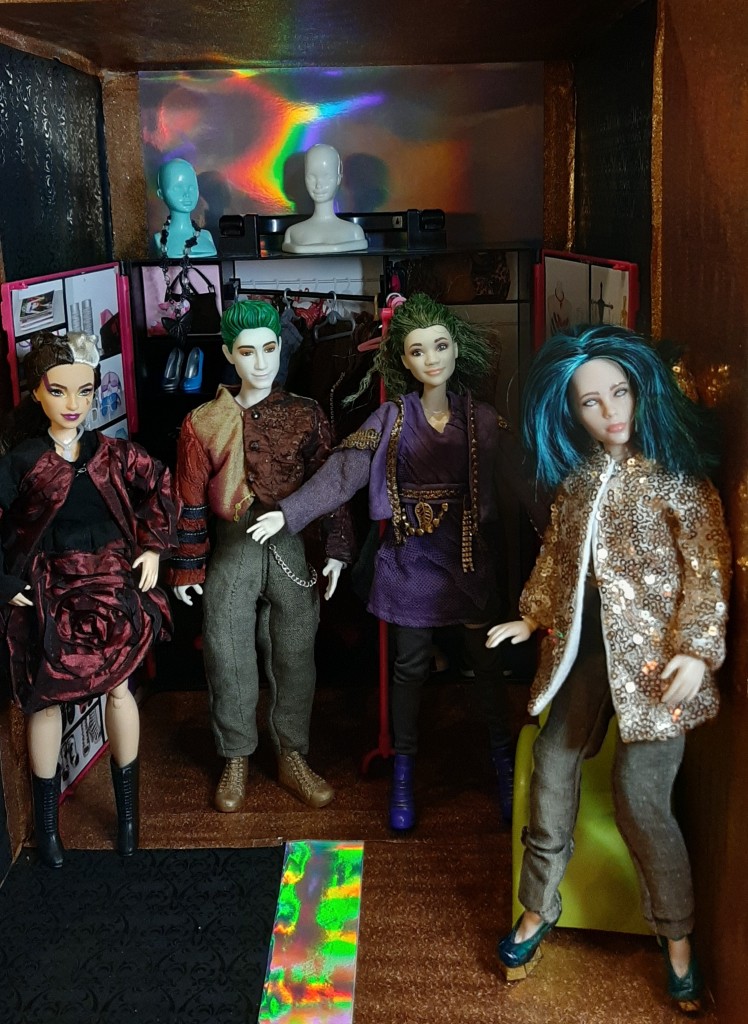 They were polite enough to ask me, if some formal wear was included…"Just one ensemble each", I told them. "Formal wear is expensive!"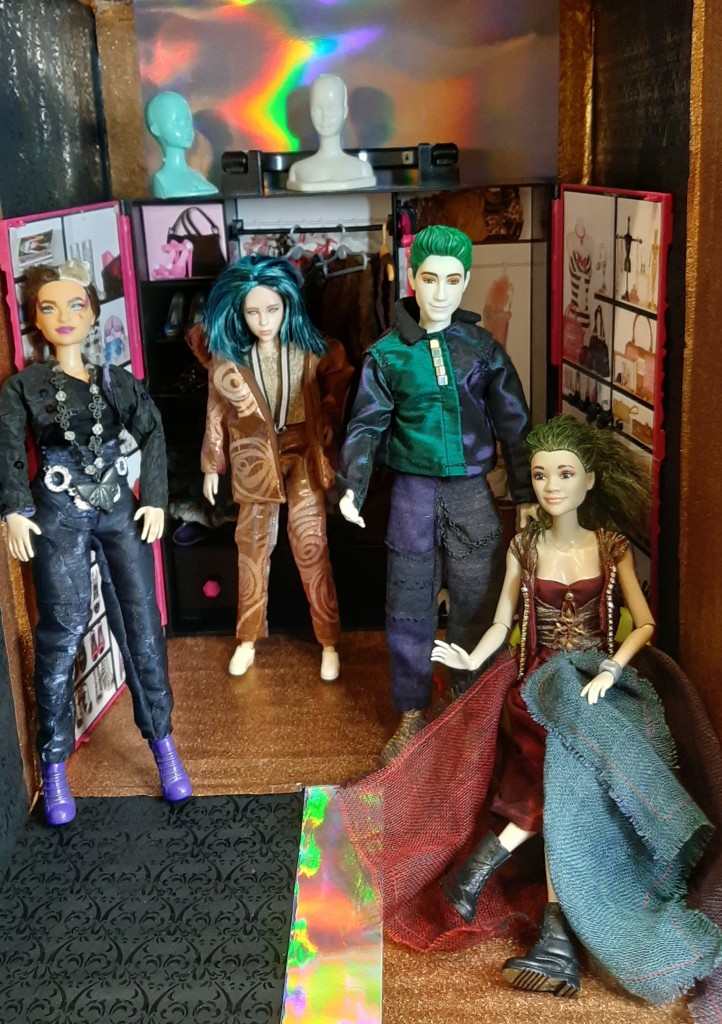 Nevertheless, they send me another photo a few minutes later with some more formal wear and asked innocently, if I like the style…I started to get a bit nervous.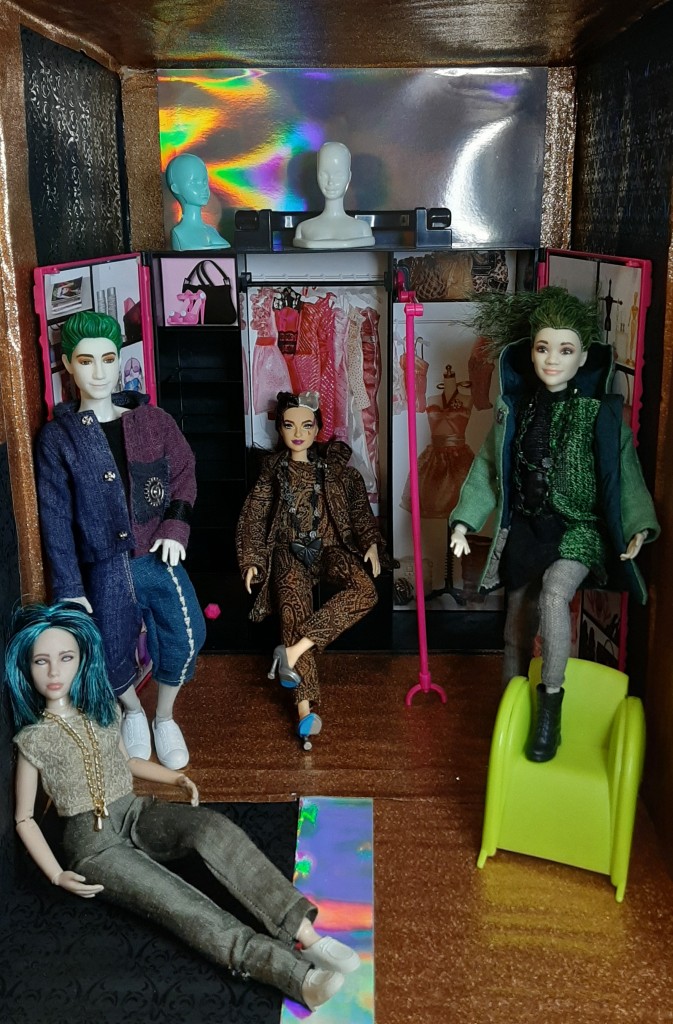 Next time my phone started humming, they showed me some cool streetwear. I felt my hands getting wet.
How many fashions can a shop, so tiny, contain? I saw the shelfes and rails get more and more empty with every new picture, until only the fake wallpaper gowns remained…At least Billie had left to fetch the laptop, so her pile of clothing wouldn´t be that high.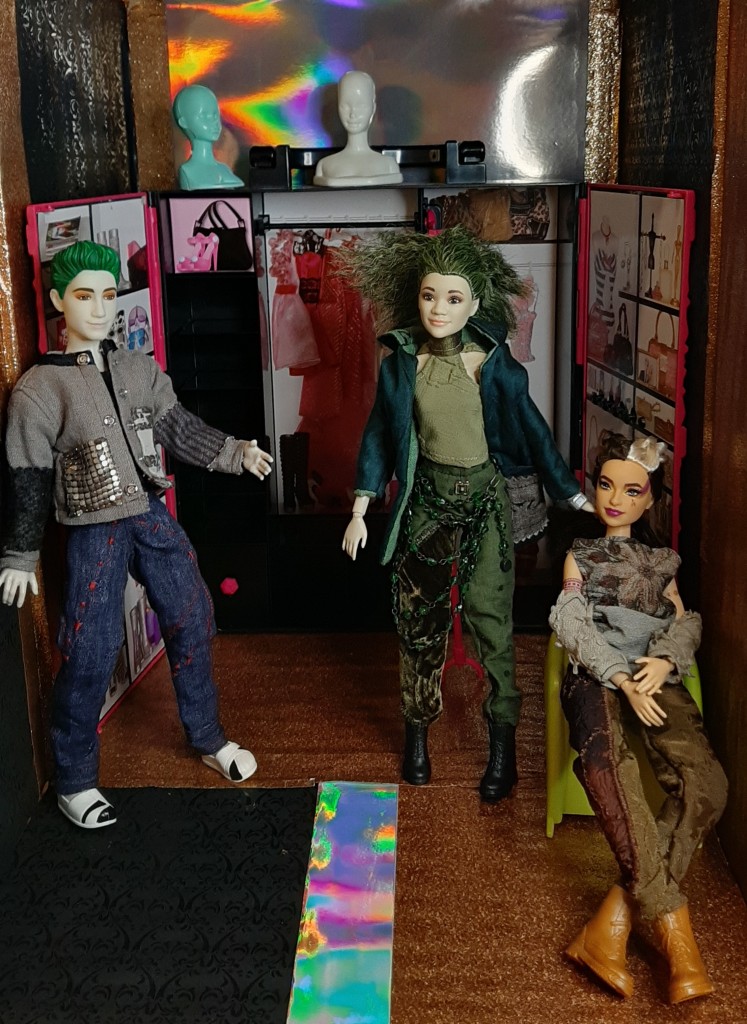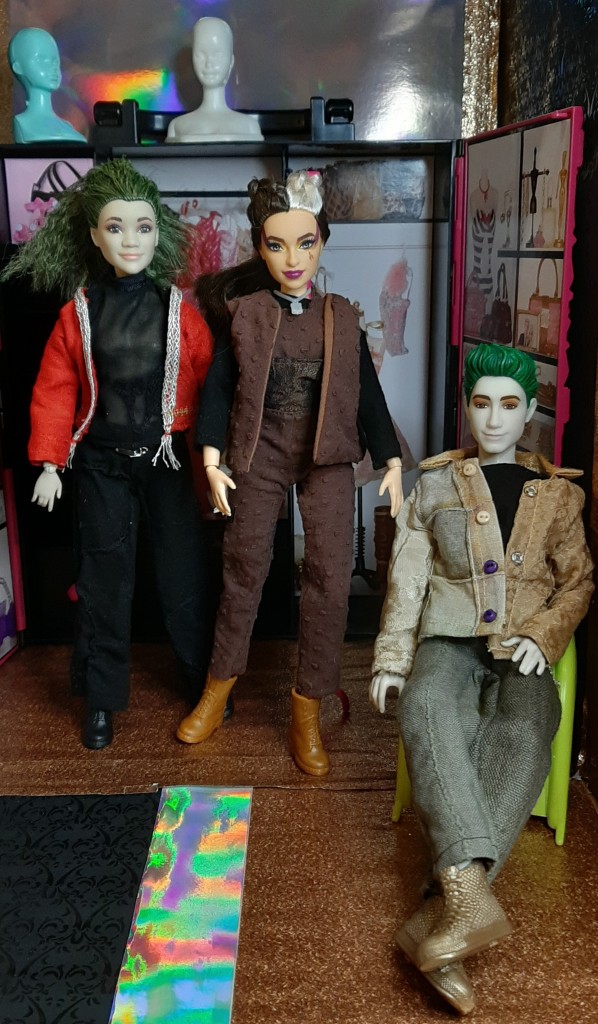 "We need different things for summer and winter!"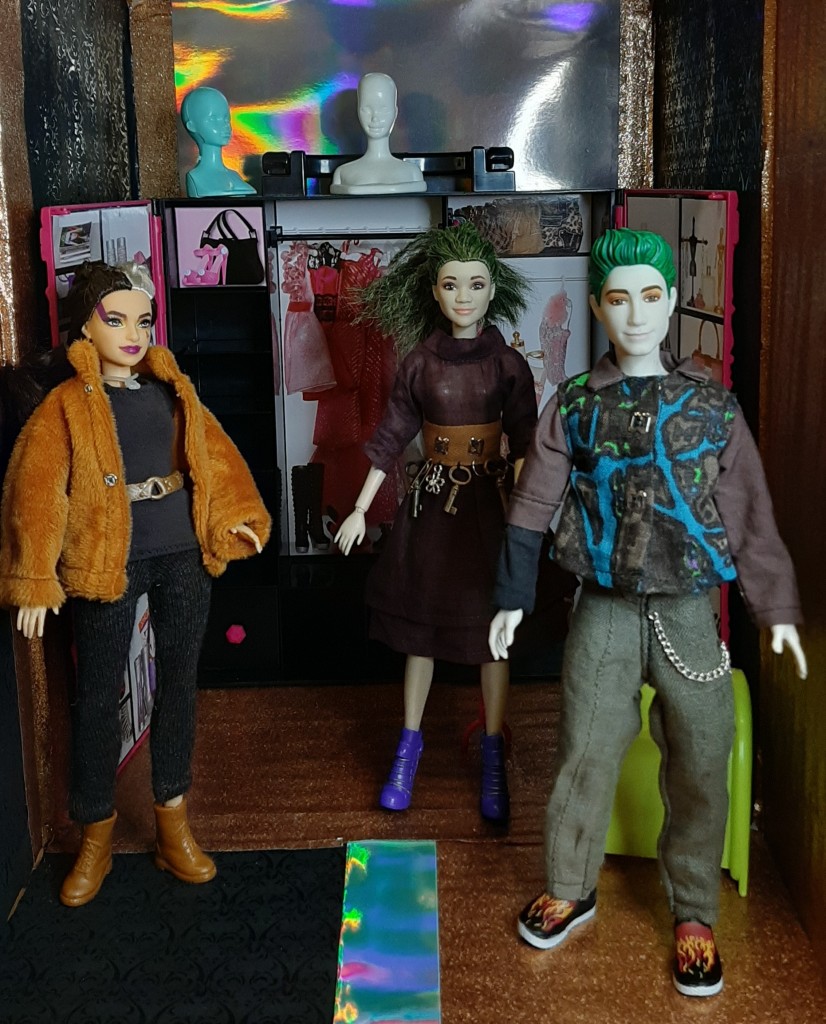 What hypocrites they are!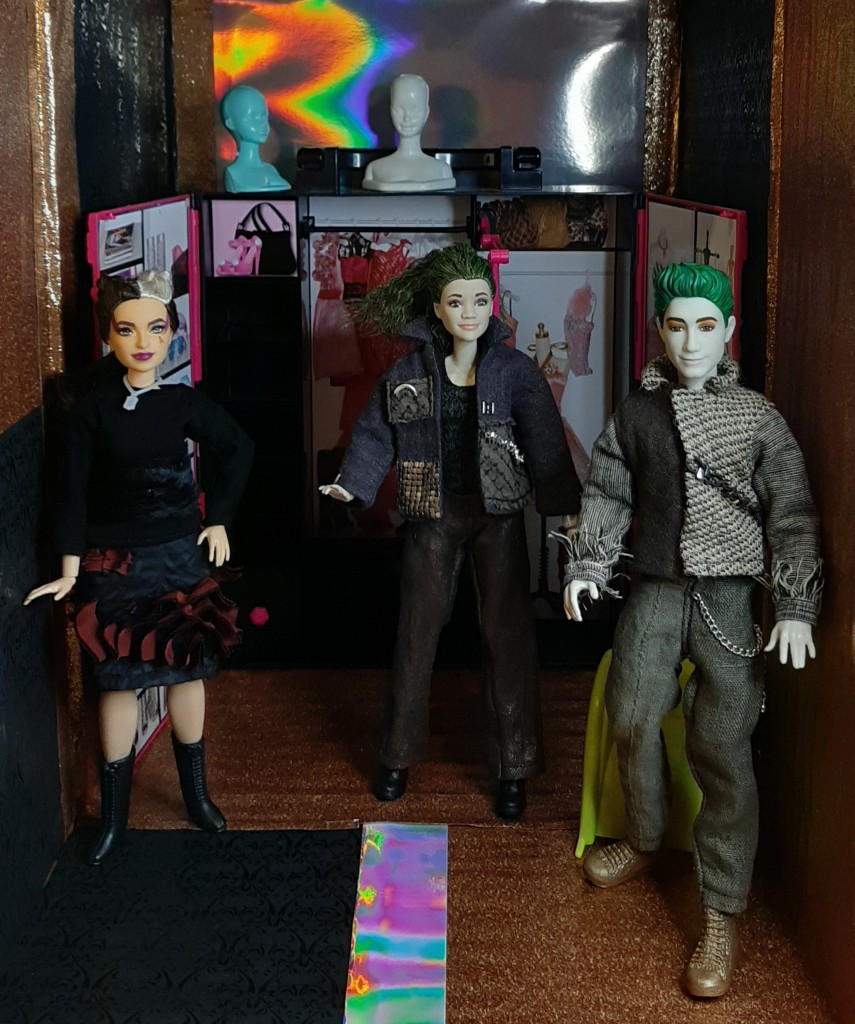 "Say, don´t we look amazing?"
Yes, they do….And that´s the problem!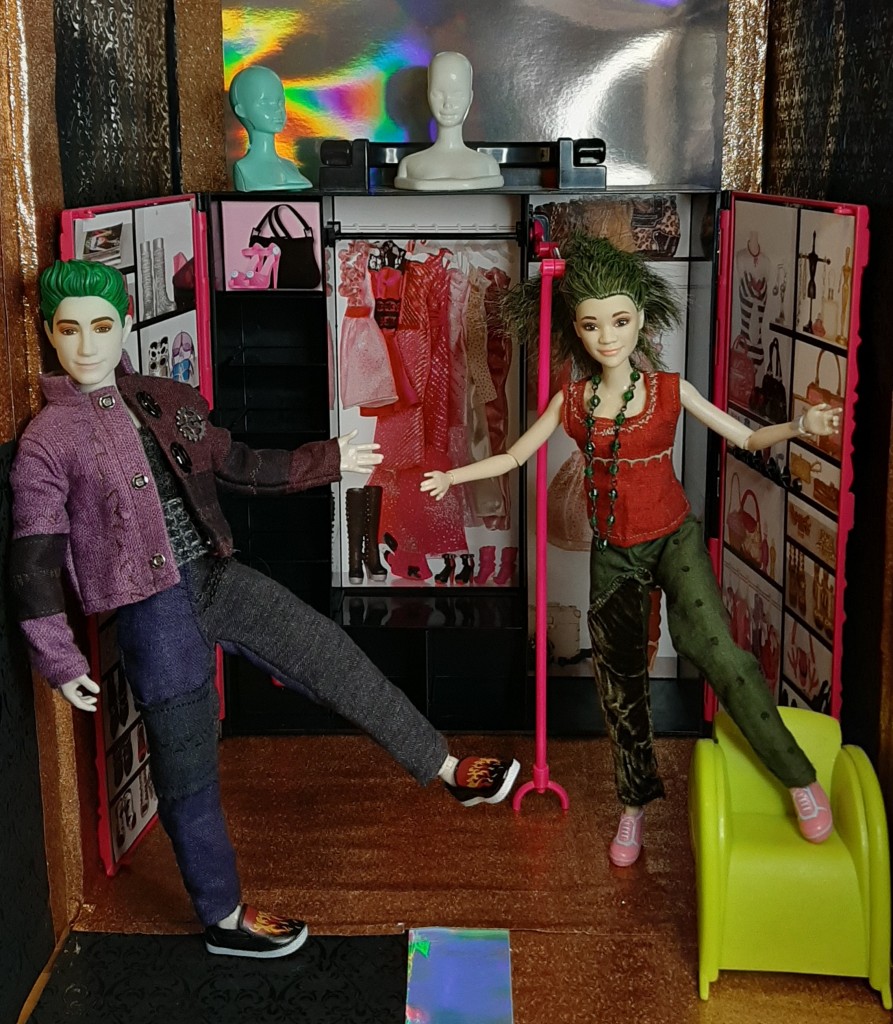 The next hum brought a new row of fashions. But they told me, they came to an end and Wynter had gone to the cashier to pay….I felt really ill at that time!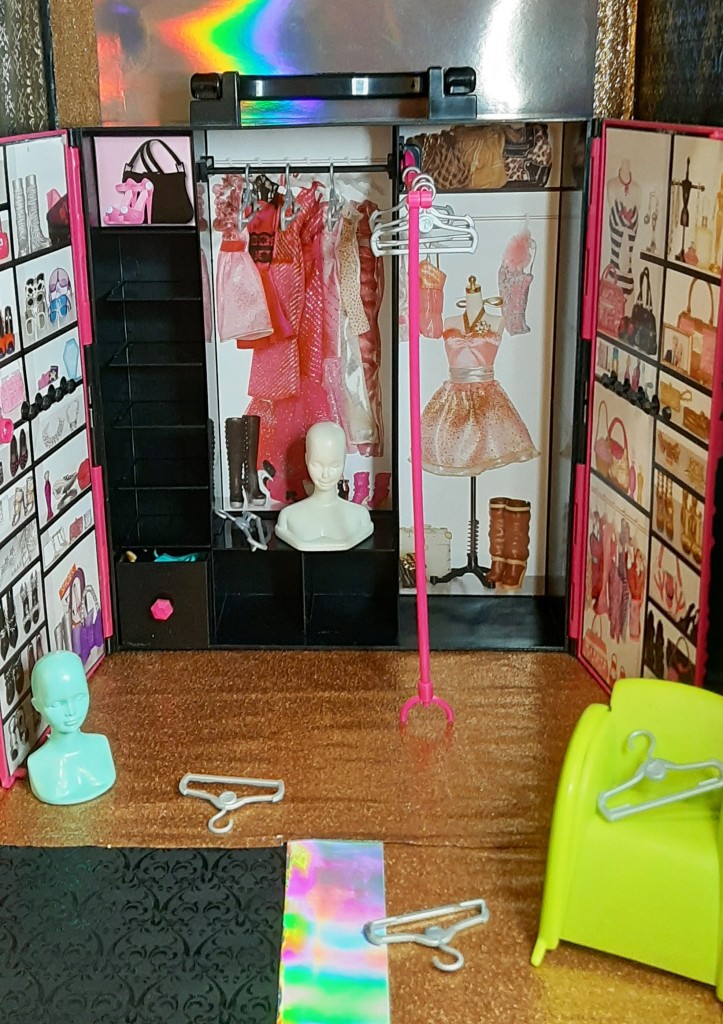 Then a last photo came in….I couldn´t believe it…They had literally plundered the shop!
I could only sit and face my doom.
As soon, as the payment was done, the witch used her magic for a last time and the shop disappeard and made room to a small café.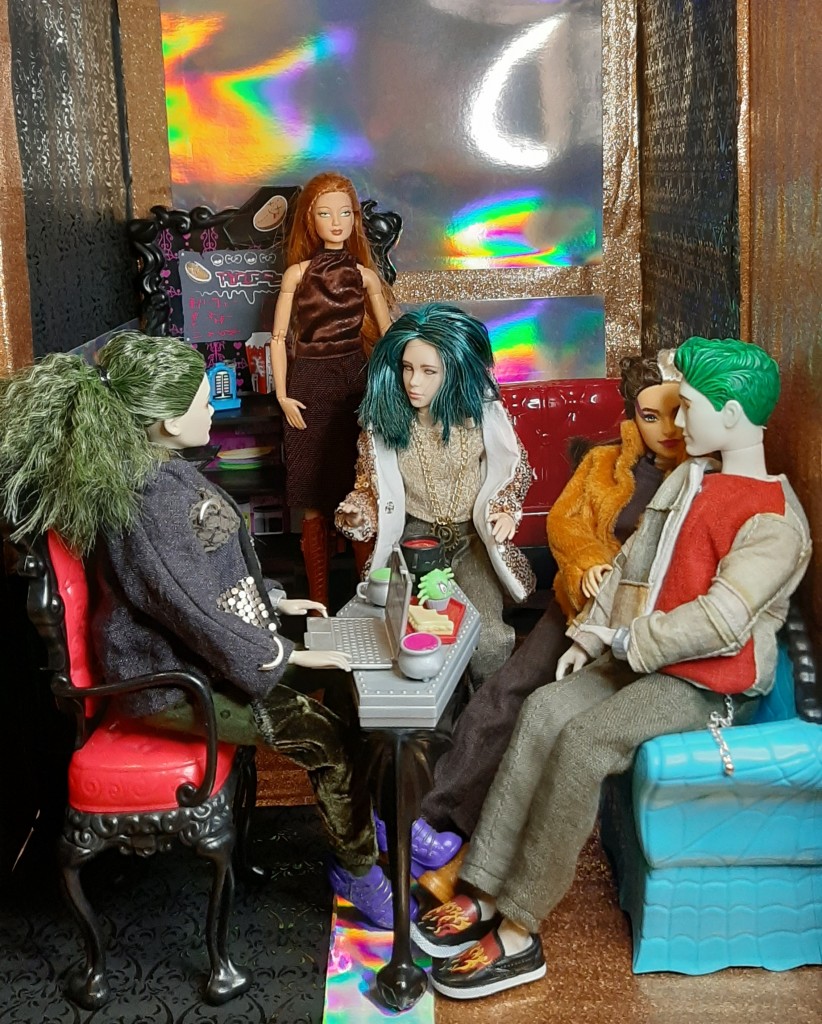 "We need to celebrate a bit!" Wynter texted me…
Thank goodness, they got their weird food and drinks for free. The witch wouldn´t charge me for that too. "Kind of discount for a very good customer!" she told them.
Billie had arrived in the meantime and as soon as Eliza got her new laptop, the world looked much, much brighter to her, even in the middle of the night. She already started to type.
Meanwhile, Wynter took her chance on Zed and I think, his reaction was promissing.
We got that enormous pile of fashions for the zombies delivered to the catacomb, while Billie and Wynter had taken their share before and dissapeared, as soon as they got it. Now my zombies are asleep and might have sweet dreams.
I don´t know, if I can dare to sleep at all….My dreams would rather be nightmares!
I´m broke for the next 20 years or so and I don´t know, who to finance my next play. But a good director does a lot for her actors! So I have to live with it!
Afterword:
Don´t most of us dream of buying a large amound of stunning clothes on someone elses account? Forget about, that can only happen in a doll play!
I never understood, why so many doll producers throw doll lines on the market and don´t provide at least one or two more fashions, shoes and accessoires for them.
The "Zombies 2″ dolls were extremely successful. Almost sold out everywhere in the USA (unfortunately most of them were never available in Europe) and the last ones are only to get for insanely high prices somewhere on Ebay right now.
So why not produce a few fashions for them after they turned out to be a bestseller? And maybe some well made clothing, because the ones they came with, are crap.  (Sorry to say!)
And why did they get such big feet? Most of the other doll lines have smaller feet, so their shoes can´t be shared.
(Apart from that, they can share most of the Barbie and Ken fashions.)
I love the dolls, but was not satisfied with the quality of their clothing and the '"just one outfit"- limit. So I sat down and sewed some fashions for them.
I had a lot of fun making weird  clothing and so I decided, to put up this little fashion show.
The shoes were another thing. I can´t make them myself, so I had to improvise once more.
That´s what I found out (maybe helpful for those, who own that dolls too and don´t want to stick with just one outfit and shoes):
-A few of the Monster High shoes, classic pumps and laced up shoes made for FR2 fit Eliza and Wynter
-Most of the Monster High shoes for boys and the shoes for the BTS boys fit Zed. Also a few Ken shoes, but only the bigger/wider ones
-Billie has the worst: A few of the older Barbie sneakers from the 80s and 90s and vintage boots fit her, but it´s narrow with the boots.  A very few of the bigger Monster High shoes fit her too, but you have to bend them a bit.  Also some of the small vintage shoes for Ken.  Wearing boys shoes? Billy won´t mind!
I had to shoot the entire play long after dark, so it was only natural to let the story be a "nightly-one"
And I didn´t see in the first scene, that one of my directors shoes is broken! Bad luck. That´s my only pair of blue sneakers!