After I finished my two versions of the "Mrs. Santa Coat", I had promised myself a third one in brown. I had a vintage velvet curtain in mind,  I stored for a long time and never knew, what to do with it.
It seemed perfect, but (like always!) things turned out completely different.
First I had to face, that the curtain was more "shabby" than expected. Some small parts of the velvet were fallen out. And the fabric had unremovable marks from the former seams. For the lining a had only some vintage fabric from a duvet (plumeau) in a shade of green. But the worst was, I could only cut 1 1/2 sleeves. All I had left was some smaller scraps…But give up? NO!
I had to be creative again….First I patched some of the scraps together and made the missing sleeve-half with it. Then I covered two misplaced spots, where the velvet was damaged, with matching borders and then I had to pretend, that all of this was planed from the start, and I wanted to sew a patchwork-coat….
Of course I couldn´t give a coat like that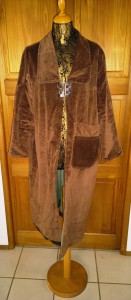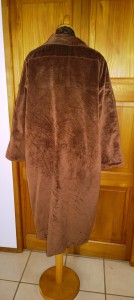 a shiny new closure….So I took a beautiful, but rusty and shabby vintage belt buckle. I´m not quite sure, if it´s late art nouveau or early art déco, but who cares….
No, it might not be the most beautiful coat in fashion history, but for a shabby old curtain it´s nice enough….and very individual!
So don´t dump things, just because they are a bit shabby. Make a repair, give it a new life, change it into something complete different and be happy with it, no matter what other people say.