First Version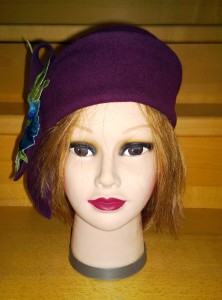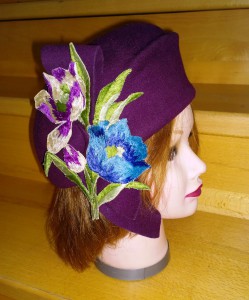 Final Version
Series 3 of "Miss Fishers Murder Mysteries" finally arrived here on the  day before Christmas. And -as expected- some fantastic new hats did show up.
When I saw the  pink toque with the vintage embroidered flower embellishment, I got "voracious" to have one in that style for my own….
Of course not exactly the same hat.  The dark pink of the original hat does absolutly nothing for me. So I chose eggplant colored felt from a hat, I made years ago and now wanted to recycle.
And I wanted to try a beautiful old french hat block, I possess for years and never did anything with. It has a slightly different shape, but I wanted it that way.
About the vintage flower-decoration, I can say , that for once I was in a good position: I didn´t have to look far, because some of those embroidered flowers were produced in the eastern part of Germany, between the 1920s-40s.
And many of them were hidden and forgotten for a long time in old stores, cellars, attics and storerooms, survived the times of the DDR and now come back to light again one after the other.
By chance I found one, matching my hat and very similar in color to the one on the pink toque. It has of course a complete different shape. To get exactly the same flower would have been a miracle and much more, than I expected.
But mine ist pretty too and I mounted it on the felt bow, belonging to the hat.
After finishing, I made pictures and found the hat pretty well on my "assistent" Lucy. But when I tried, it looked somehow odd.
DARN!
I turned the hat from left to right, put it on askew and finally turned it completely with the back in front….That´s when I found out, what was wrong: The flower-bow-decoration was on the same side like the pink toque showed. But my Version looked much better on ME with the bow on the opposite. So I removed the bow, turned it upside down and remounted the flower. Than I sewed it on the other side.
And now it works. I made new pictures with Lucy, put it on myself and it really looks much better!
The first comment I got, after finishing this hat was "My grandmother had some like these…."
I answered " But mine is DIY and there is only one."
"Well….I hope so!"