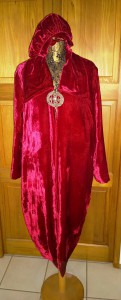 No, just kidding…Since I saw the blue velvet coat in series two of "Miss Fishers Murder Mysteries", I wanted something like that.  No accurate copie of course, but a coat in a similar style. Now, that´s long, long ago…meanwhile series three turned up and I never had the time to go on with the project.
Until the day before yesterday. I put anything else aside, made the pattern and sewed the coat in a hurry from silk-velvet, I had in store for years and a lining of vintage unbleached linen. Like the original from the series, my coat has a closure from a vintage belt-buckle. In this case a buckle from a traditional german costume around 1900.
Like usual, it´s not perfect and I also changed some details: Another color, a shorter, softer collar, NO feathers and I also changed the wide, in the lower part gathered and narrowed sleeves into more practical, simple ones.
After I finished the coat, I found it a pitty to have so much work with the pattern and than just use it for once….So I took two vintage curtains and made another, unlined version. This time an Art Déco belt-buckle does the closure-job.
And I think, I will make another version in brown….
Some of the scraps made a little two-way-cap. Depending on which coat I wear, I just turn the cap around.