Occupying a whole shopping center for a play is nothing new. Be it the real world or the one of dolls. But it was fun, to fill it all with kind of "life" and lots of little props for my actors to use.
Making this play wasn´t easy. I had to prepare almost a whole day and shooting took place late in the evening. That´s why the pictures aren´t the best.
I used a ringlight on a stand, but not even that was helpful, when it finally got to dark.
The story itself was in my mind for more than a year now. But I never had the right background, some props were missing and there was my constant lack of time.

Most of the problems could be solved, so I was finally able to start.
"Renovate yourself!" is only part one of a 4-part story. So there´s more to come.
But that will take time. And some more preparation…

But it´s time now, to start my "boy meets girl" story… See you later!
Curtains up!
RENOVATE YOURSELF!
For may years, you walk through live rather content with yourself.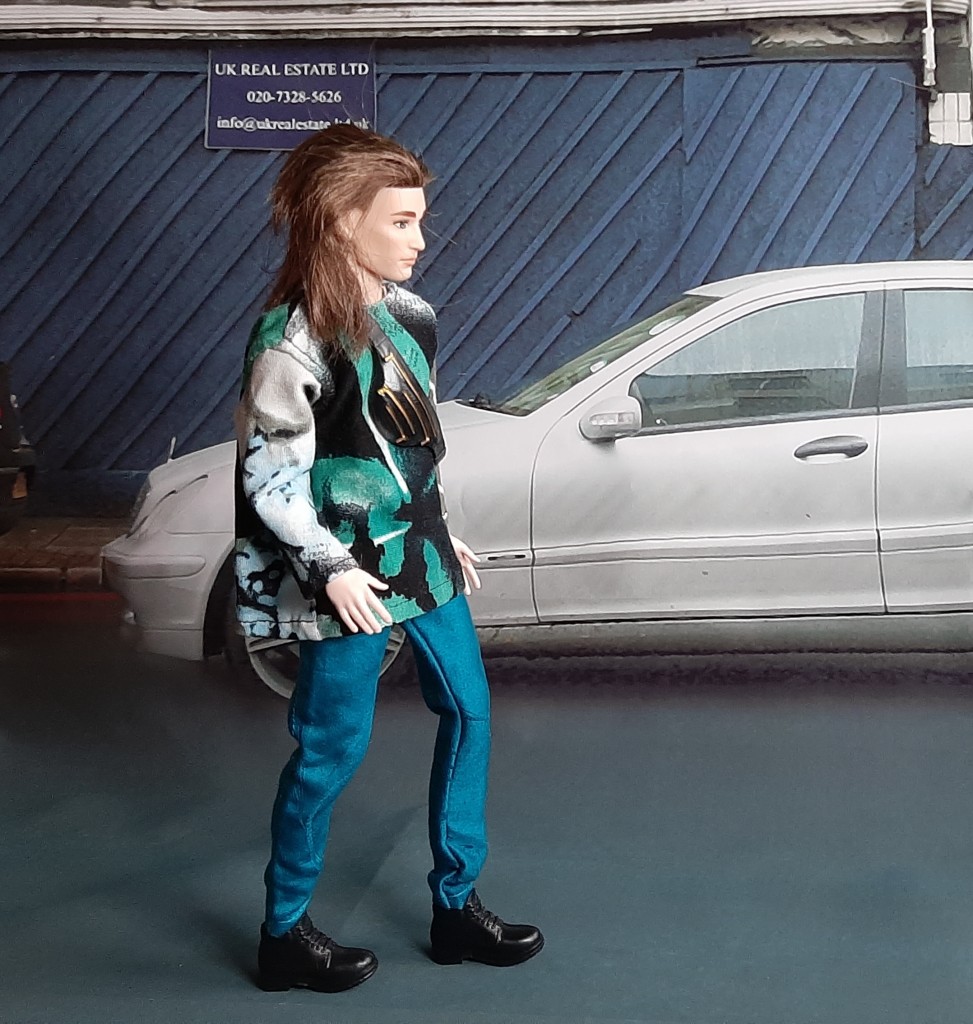 You go to work and earn your pay, ignoring that little voice inside your head, that tells you, something is missing and you´re not really complete.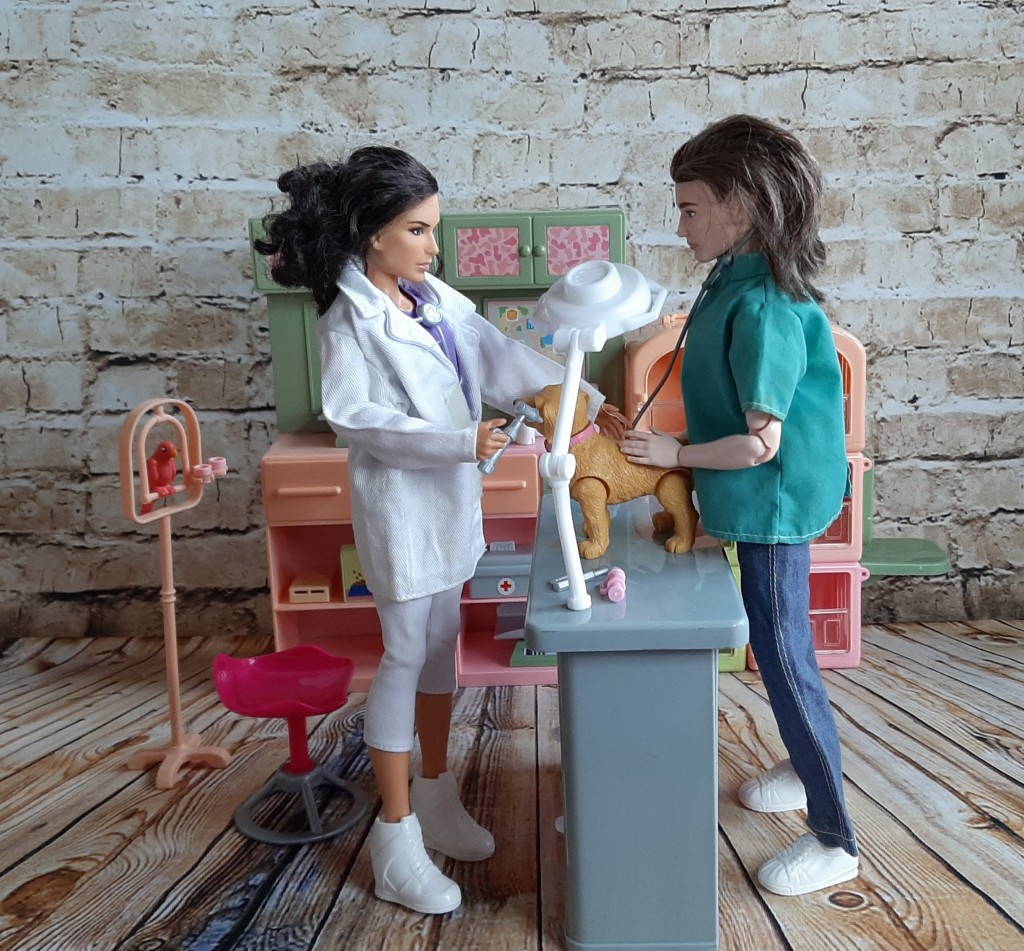 Until one day, you bump into a girl and fall in love head over heels.
From one moment to another, your whole world has changed and if you find out, that she cares for you too, it could be heaven on earth….But instead, you lose your self-confidence completely.
How can a goddess like her have feelings for a dull guy like you? Someone, who´s far from being the hero of her dreams?
So one morning, you find yourself staring  in the mirror and you hate, what you see. She deserves something much better!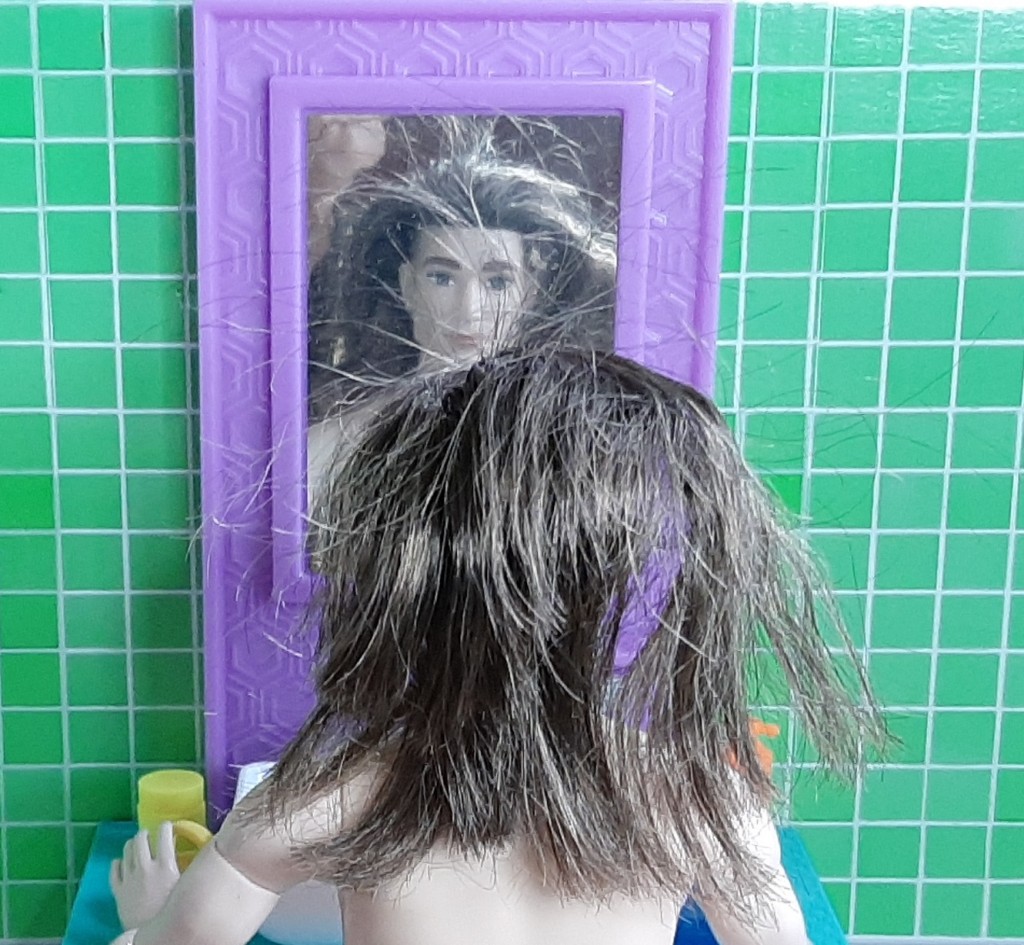 You want to change everything: Your hair, your clothes, your face…Even your name. You  simply need a "self-renovation".
And you don´t think for a moment, that she might love you for exactly what you are right now. No, of course, you don´t!
You insist on changing yourself. So you have to start with the easiest thing on your list: Changing your clothes style. And that means shopping.
But there is one little issue: You simply HATE  shopping!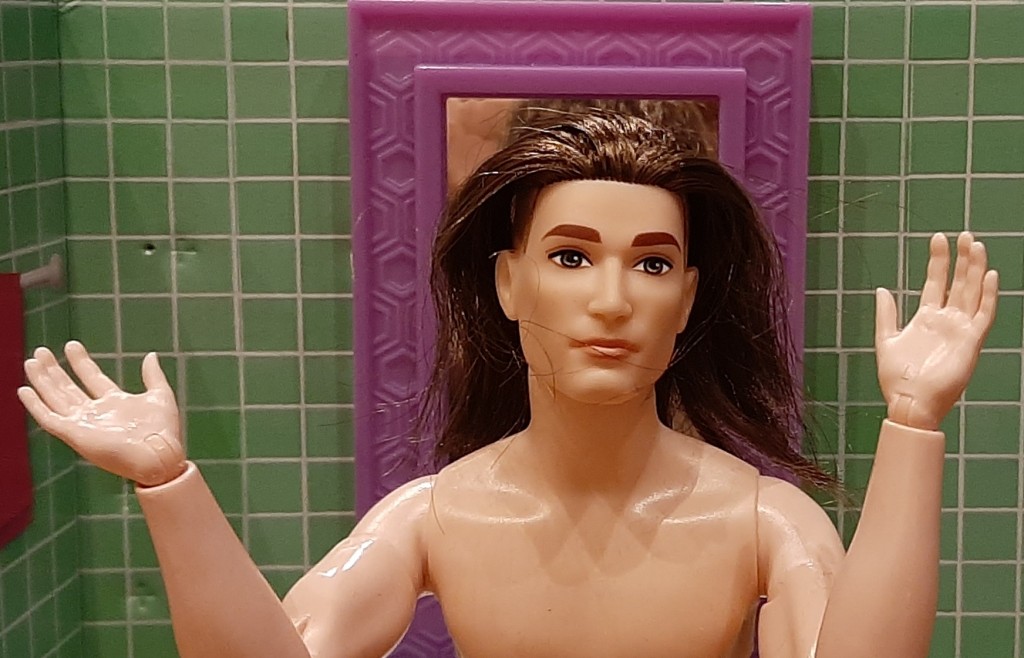 So what are you going to do? You call your cousins, who are also your best friends, for help!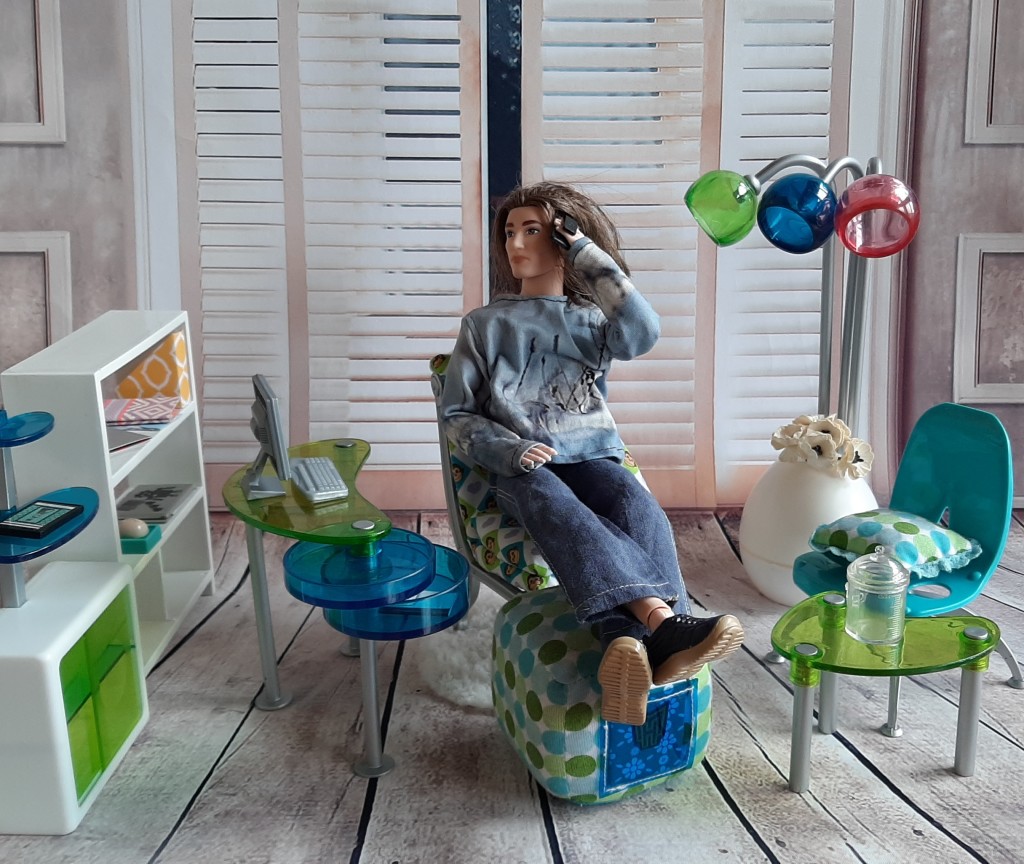 Both agree to meet you in the evening at the shopping center, to help you find the right style to impress your girl-friend.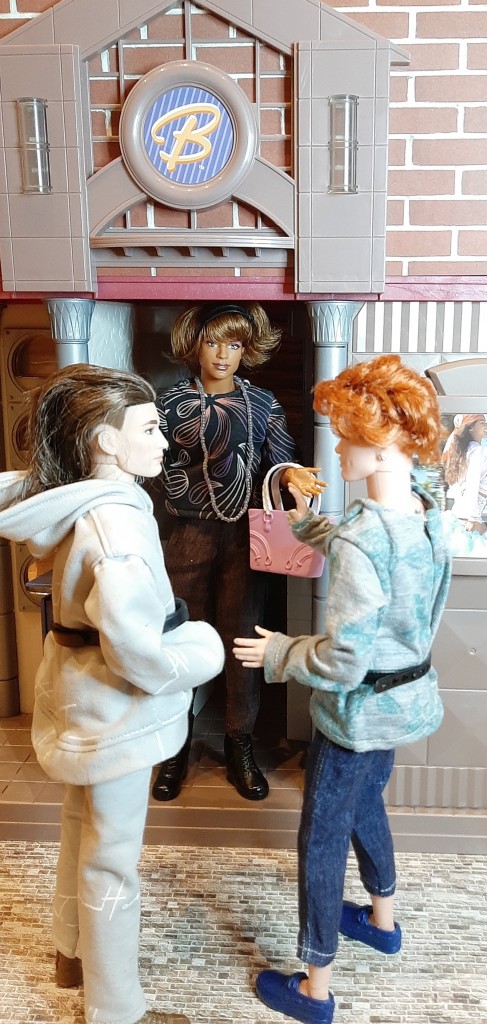 "I´m not sure, if I really want to do this, Padraigh!"
"Oh, come on! I hate shopping as much as you do, but I promised to help and now you would change your mind?"
"He´s right! You can´t command us over here for help and then run away! Don´t be such a coward! Shopping is fun, you´ll see! And it´s not Sodom and Gomorrah in there!"
"But you´re a girl, BanQuette! For you it´s different! I feel rather like walking into the lions mouth!"
"I don´t have the time to listen to your wailing! Padraigh, let´s go in. If we further try to convince him, this could  go on forever! He might decide for himself, if he joins us or not!"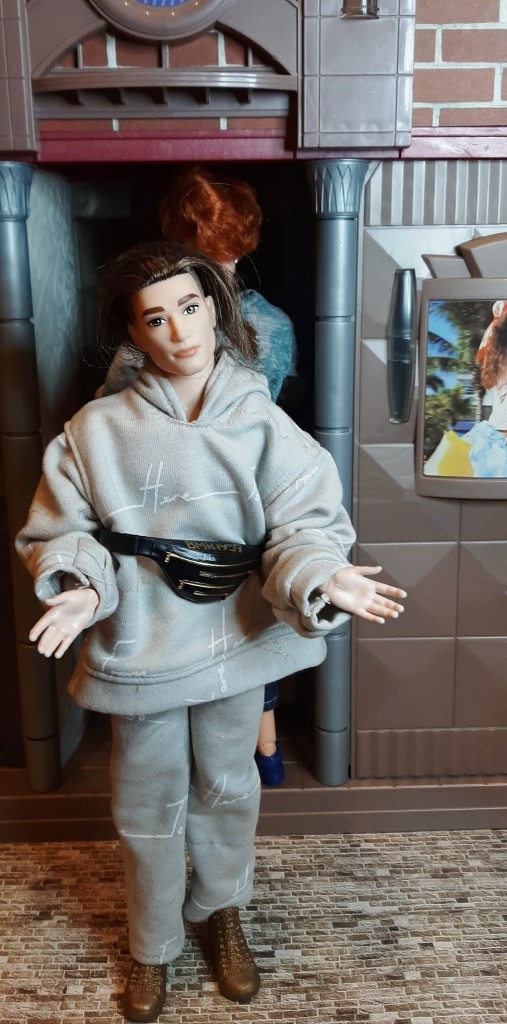 "Lions mouth!" Like I said….but I do it for her!"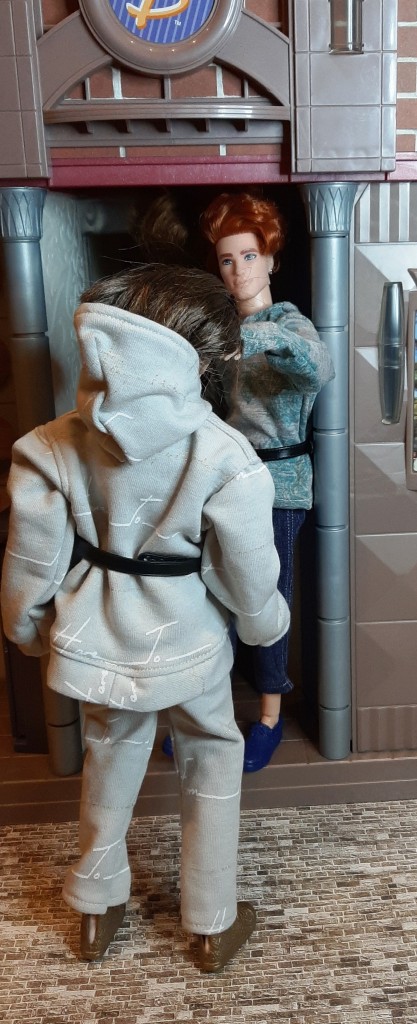 "Now come on! We haven´t got all day!"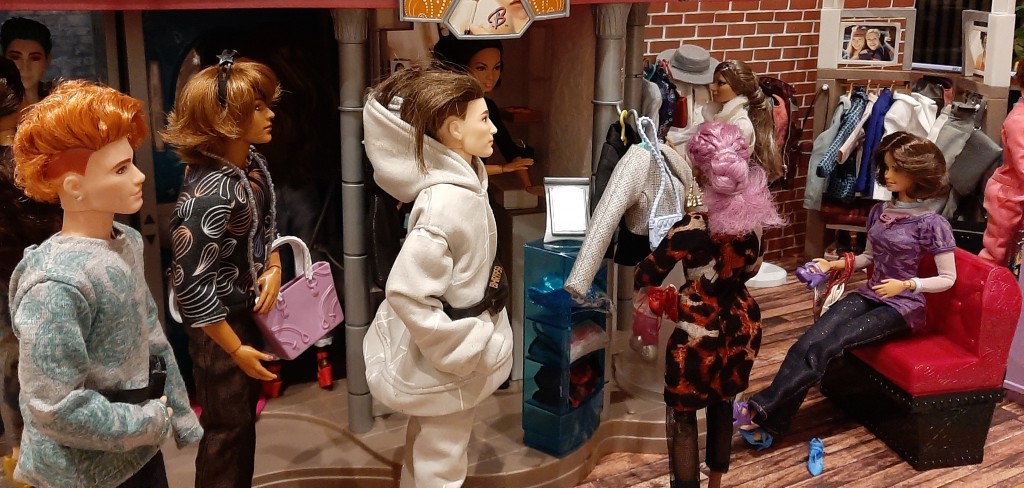 "Crap! I hate crowded places!"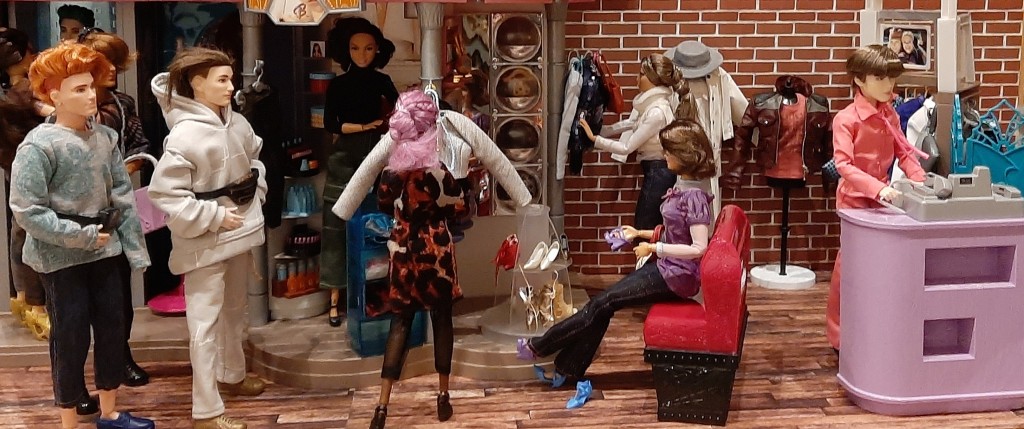 "And all I can see is girls stuff! Isn´t there a man´s corner?"
"Of course, there is! Just turn around and then go left!"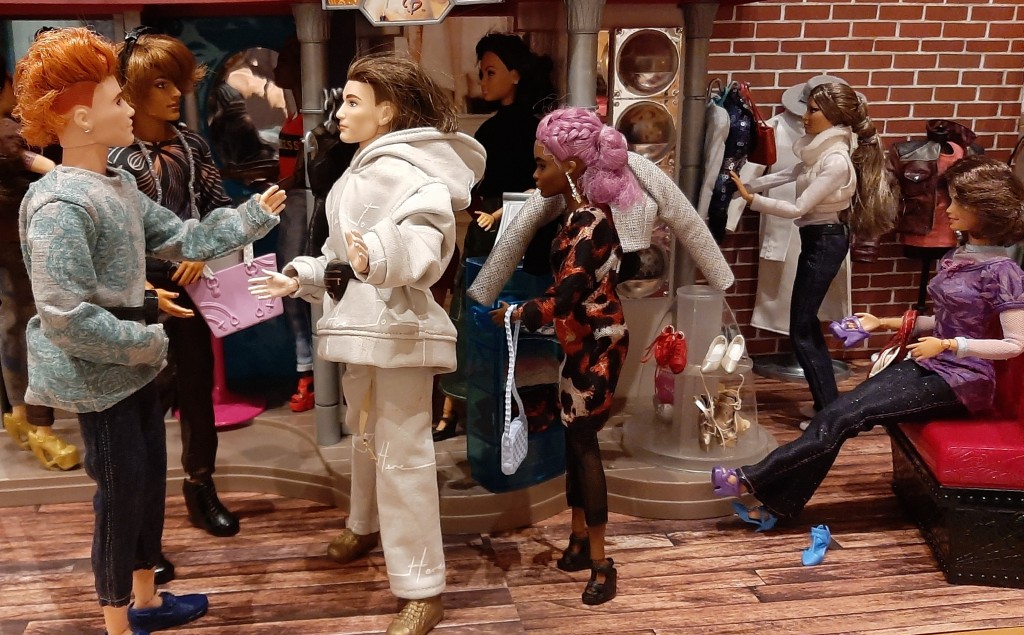 "Wow! That´s something! I´ll bet, you find the right things here….Look at that white coat! I love it!"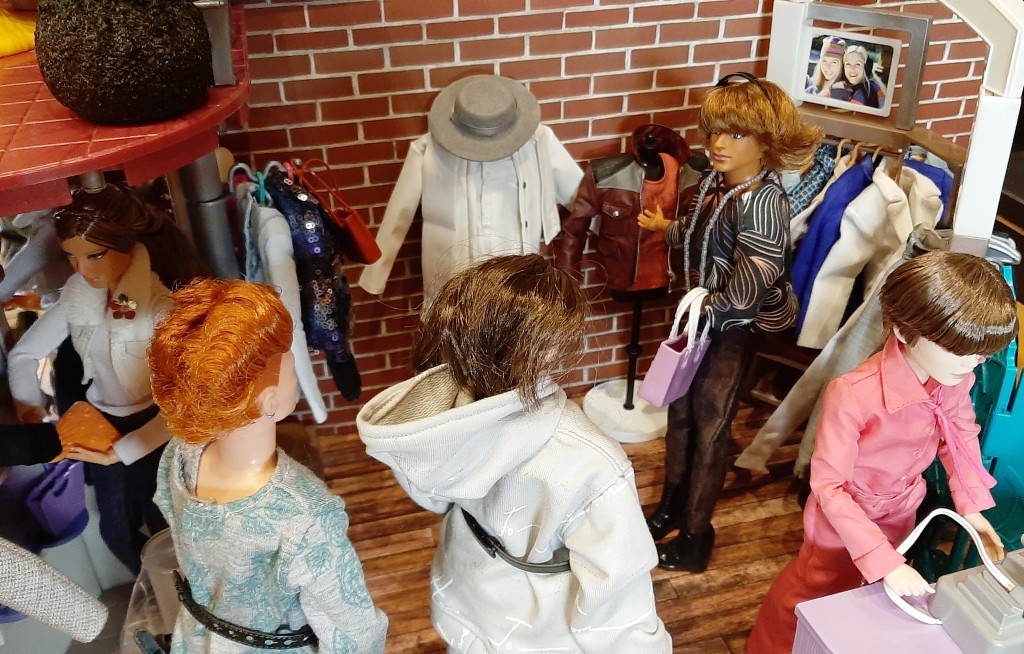 "I´ll sit here in the corner, while you both rummage through the rails…."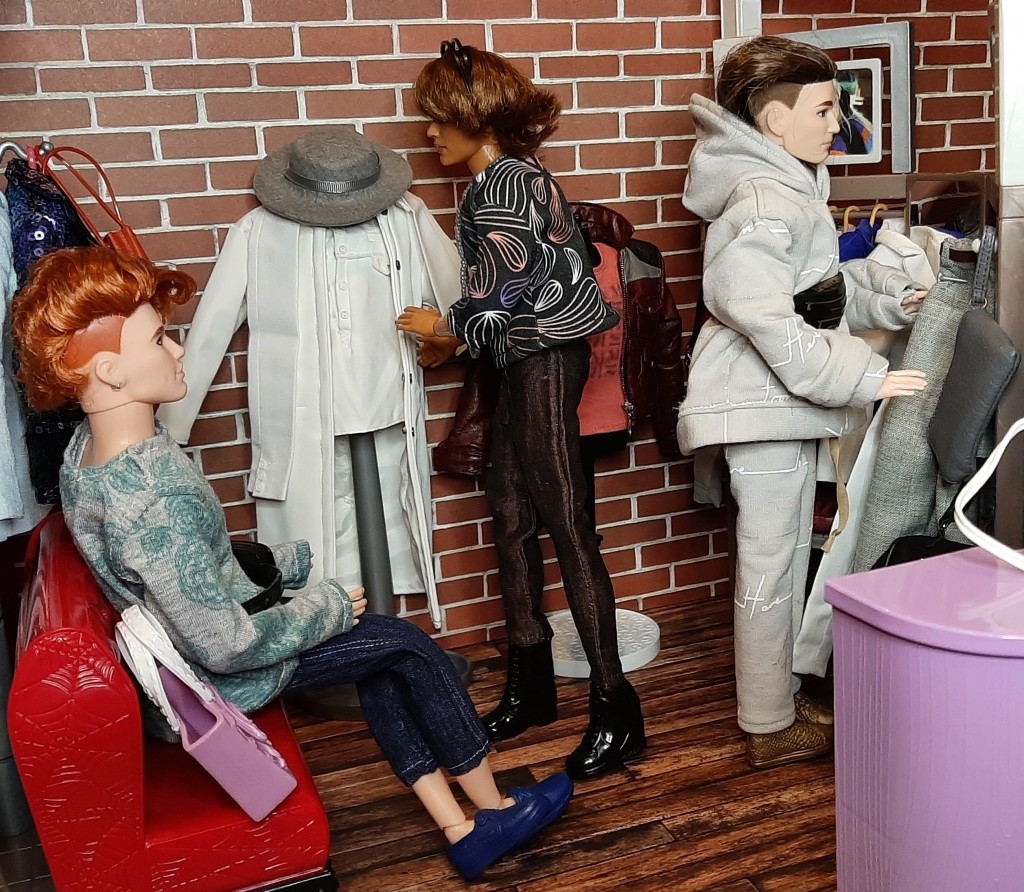 "I need to try that coat and shirt!"
"Wait…I found matching pants for that!"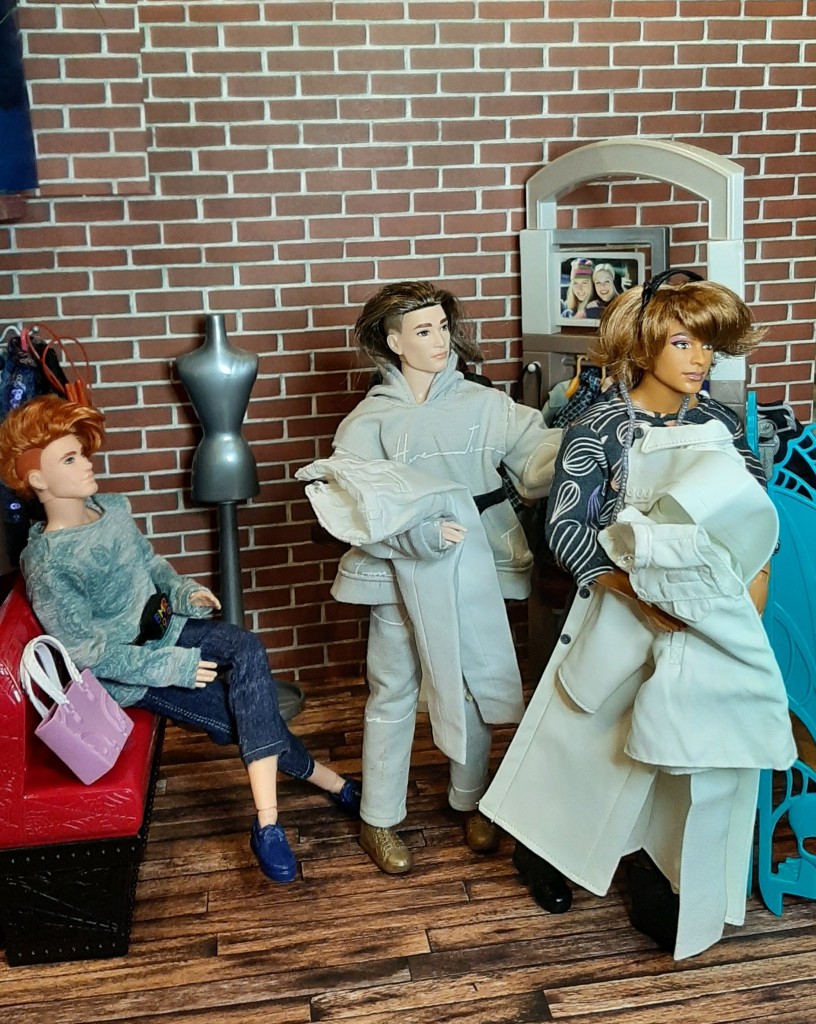 "Ta-Daaaa…What do you think? Don´t I look absolutely dazzling ?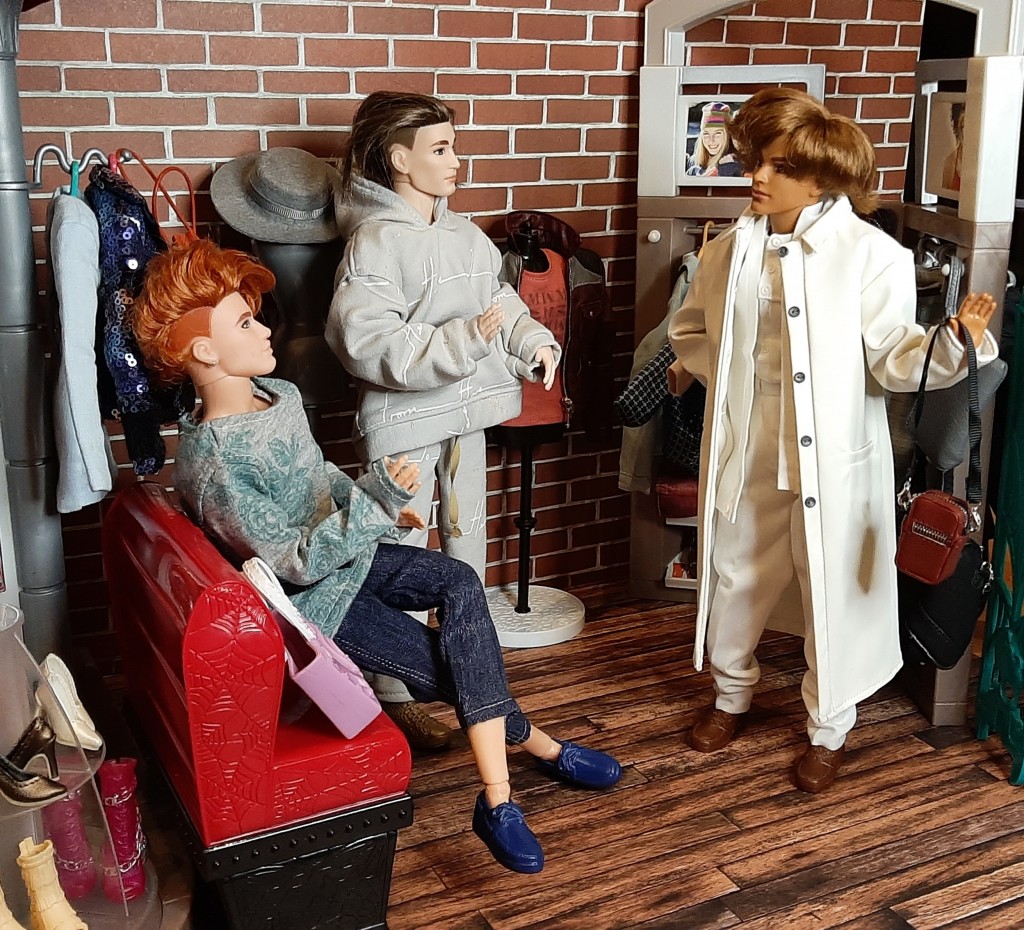 "You do…But isn´t that a bit to "manly" for you, BanQuette?"
"Not if I wear the pants with a sequined blouse or the coat with my little black dress and pumps! Today, girls can wear anything! And some of your man´s clothes are really attractiv!"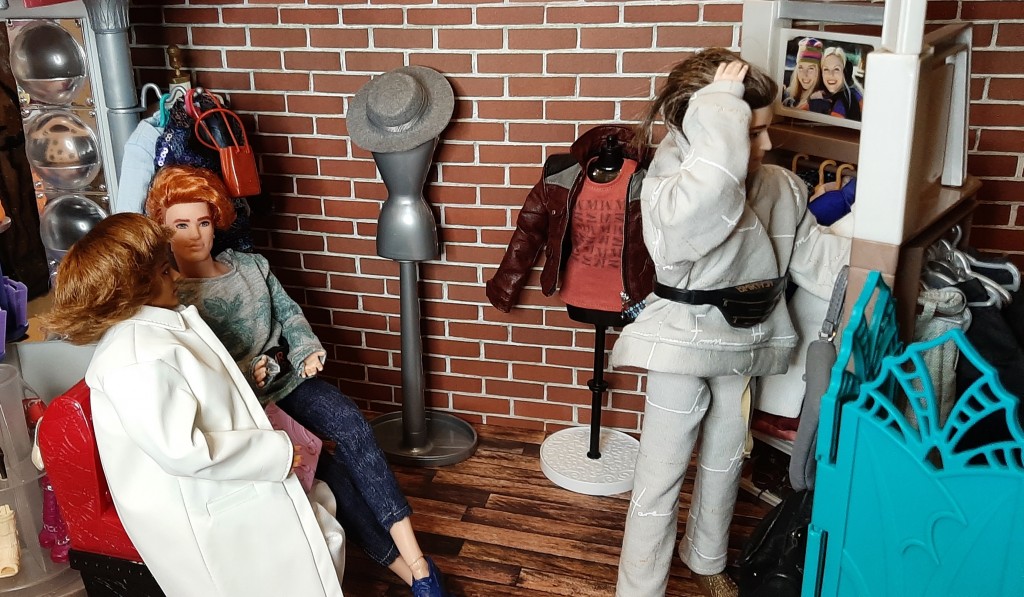 "Now you got something, but we didn´t come here to take care for your wardrobe, BanQuette! We wanted to help him…He already looks desperate enough. Don´t you think, we should do something?
"He´s a big boy! I think, he can manage. And he only asked us for moral support! And that´s what we do!"
"But he doesn´t know anything about fashions, just like me! Most of the time he´s running around in jeans and t-shirts. And the few shirts he has, were a gift from uncle Onslow!"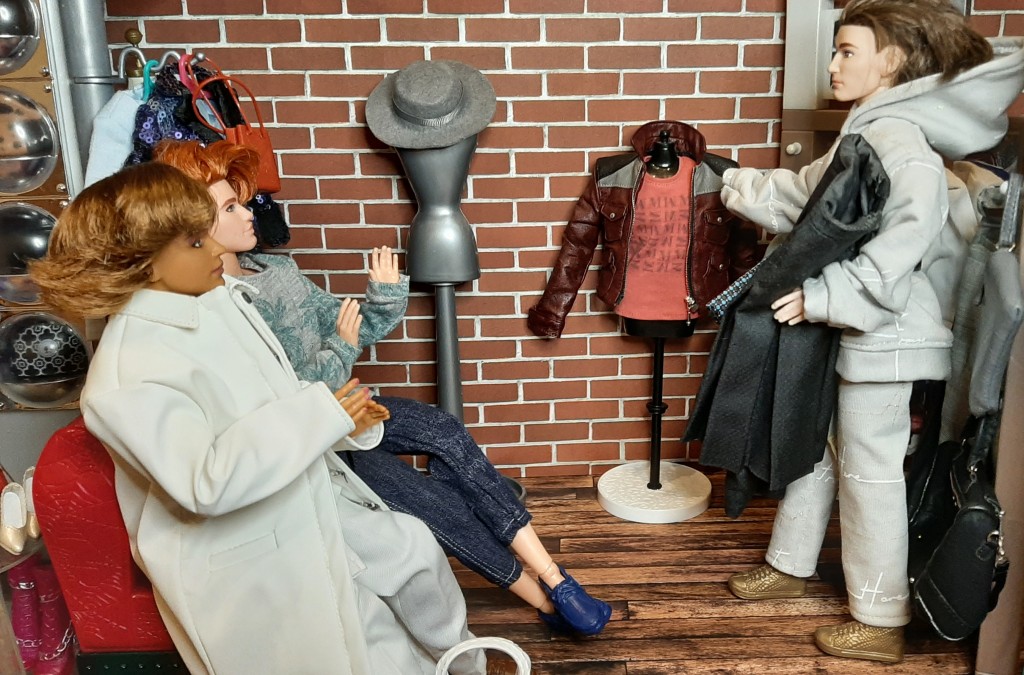 "Sorry to interupt, but I think, I´ll try this on. I like the jacket and the pants are something else!"
"Hey! Do they have a second pair of pants like that? Would you mind, if I got them too? They would look lovely with my white embroidered silk-top!"
"BanQuette behave! You know, we should focus on HIM!"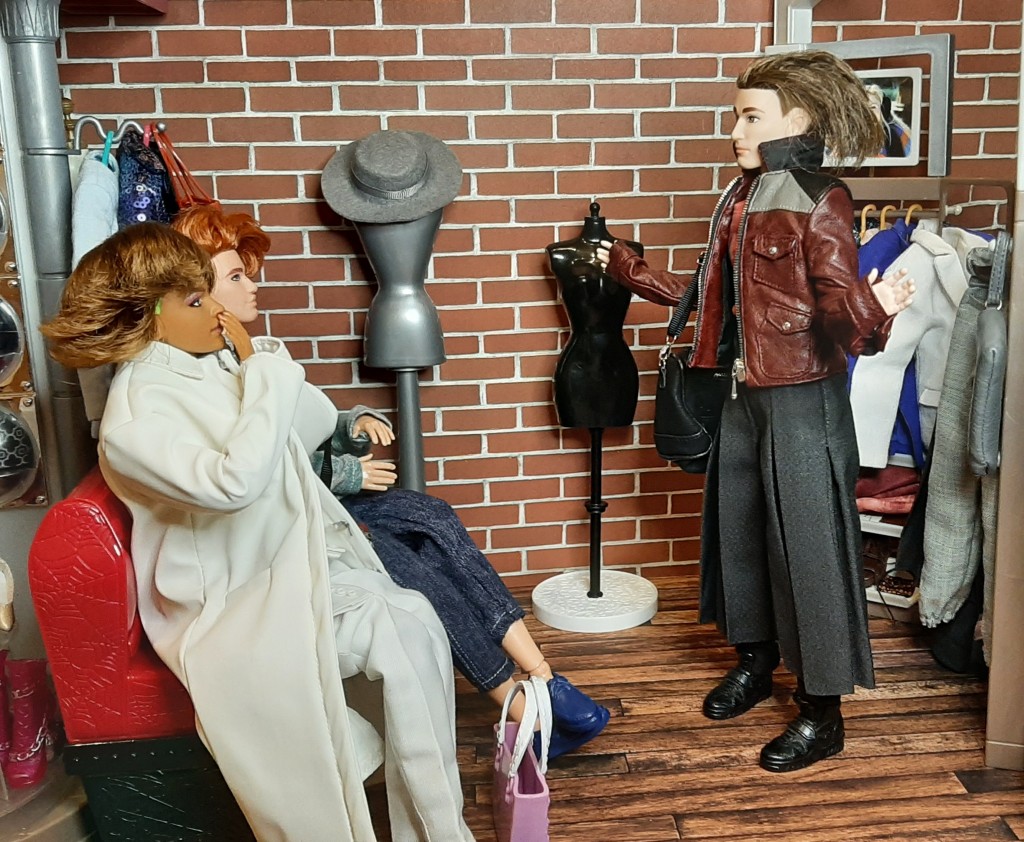 "Now…How do I look?"
"Well…it´s great. You look dashing! But do you really think, your girl needs that? Maybe she wants you just the way you are!"
"Padraigh! Don´t kill his buzz! She will love his new look!"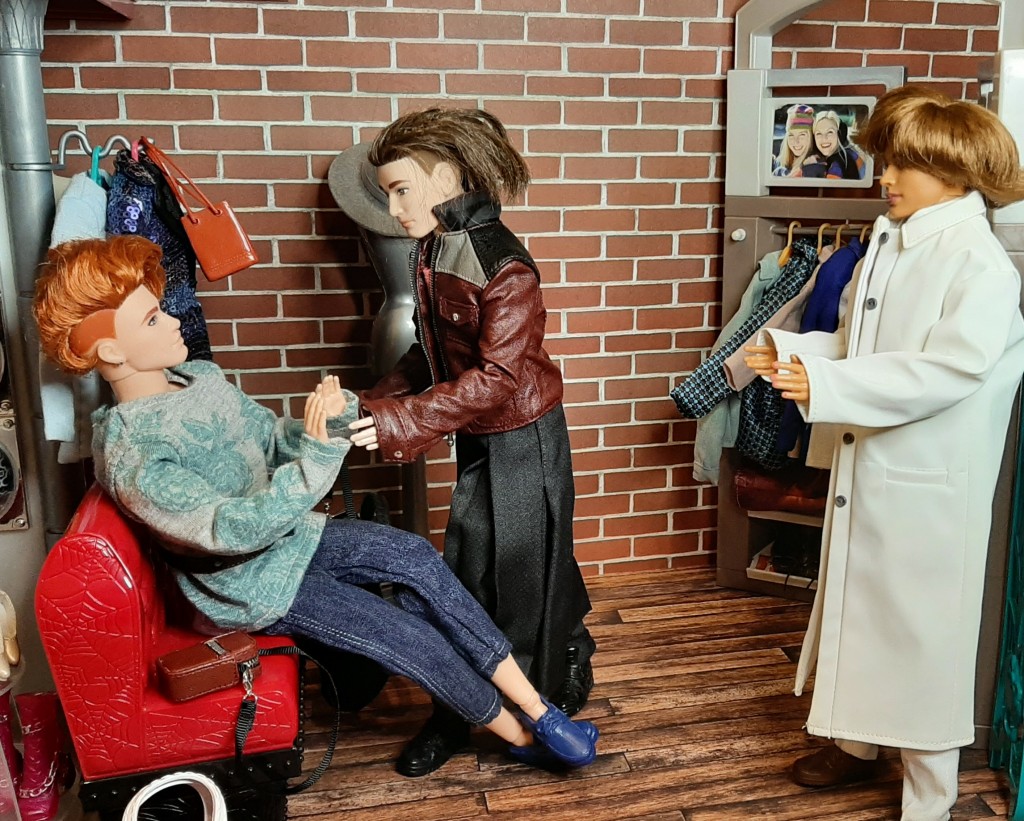 "Now Padraigh… maybe you need a new style too!"
"No!!!! Just leave me alone! I don´t need new clothes!"
"I told you, shopping is fun! Our "Romeo" already caught the virus! And now it´s your turn! I´ve seen something perfect for you in that rail over there!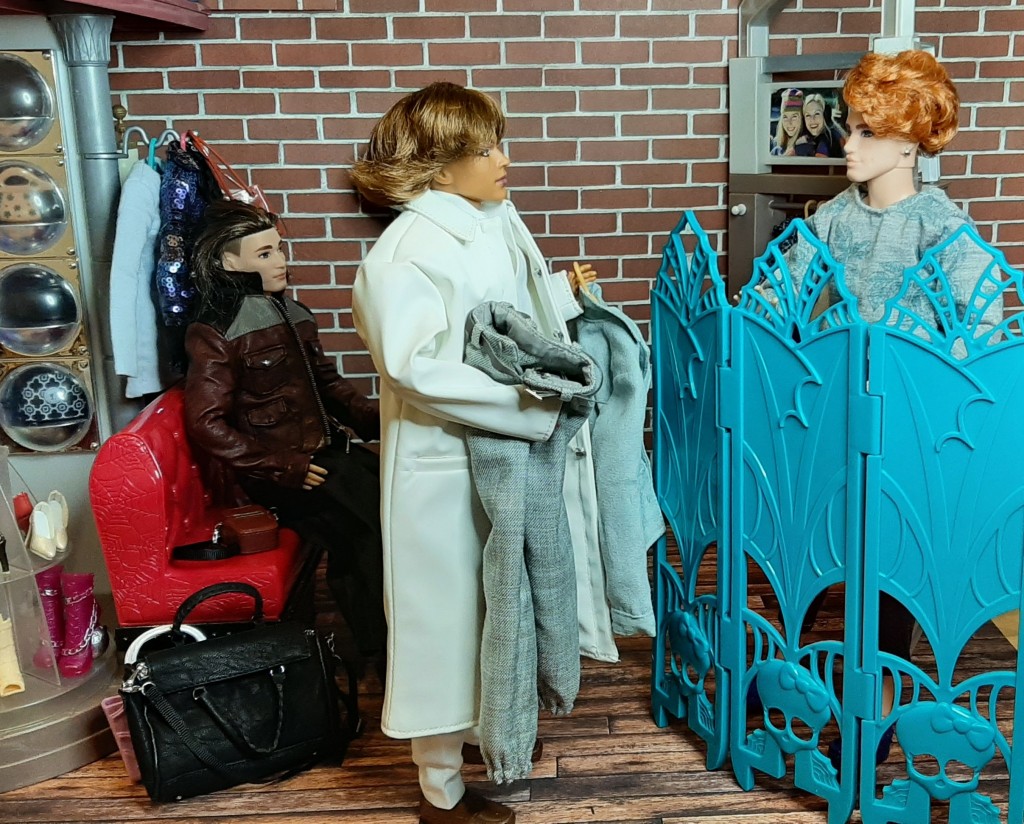 Ah…Here it is!"
"You look great! Really "adventurous"!  I like that style! But there´s something missing…Try the hat and bag!"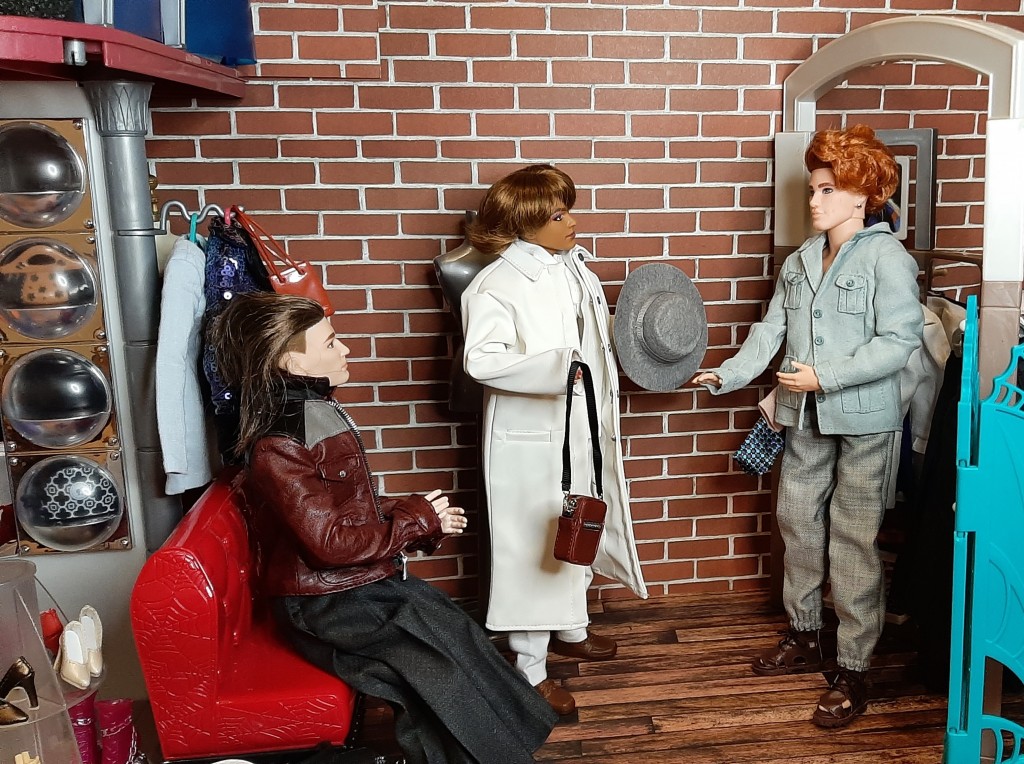 "Yes! That´s perfect!"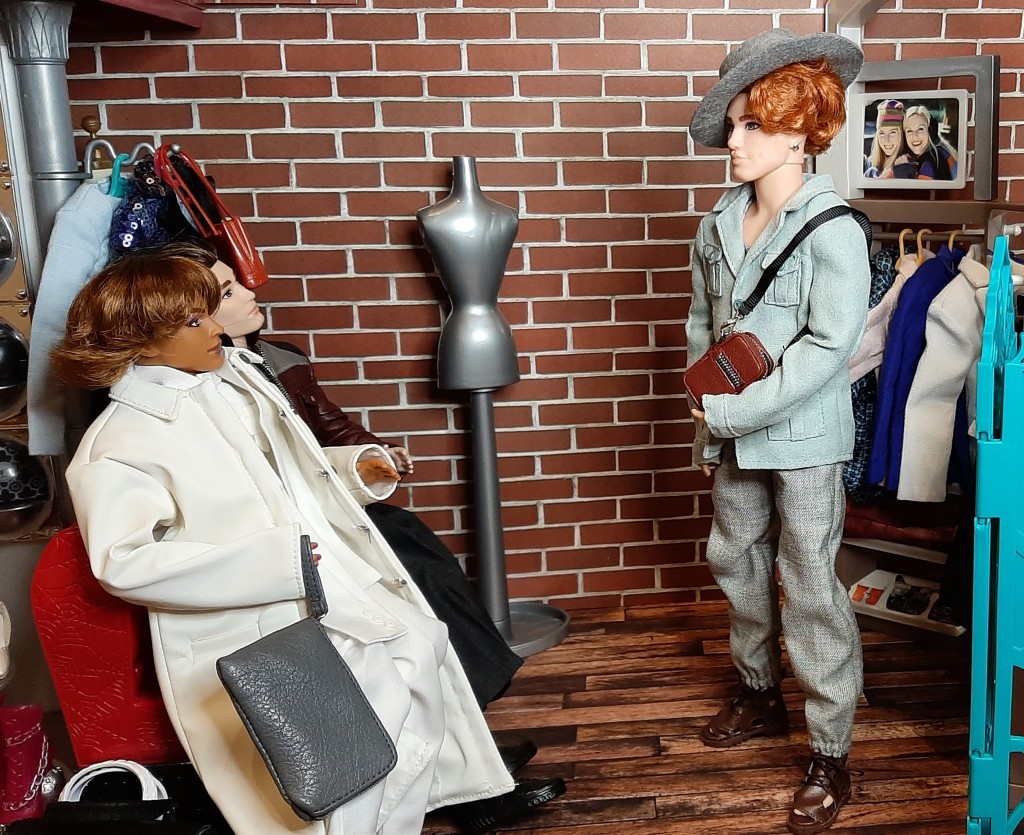 Now, that all three got the shopping-virus, there are some more styles  to try…BanQuette manages to find the same pants in her size and gets a pair of posh golden pumps and a matching bag from the girls section!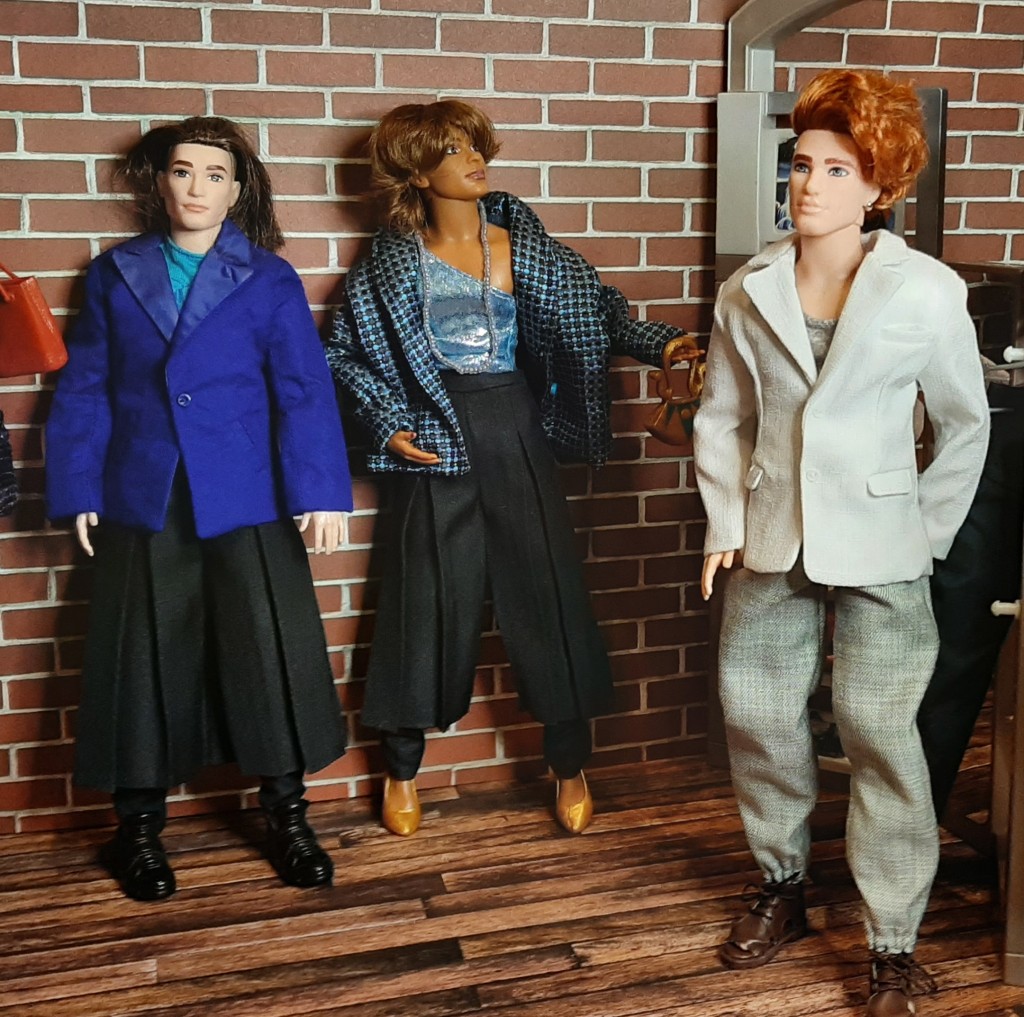 "Listen…I think, we´re all a bit tired and hungry now. There´s a little self-service café with a pastry-shop on the second floor. We could go there and pick up our purchase later."
"Good idea! Let´s go!"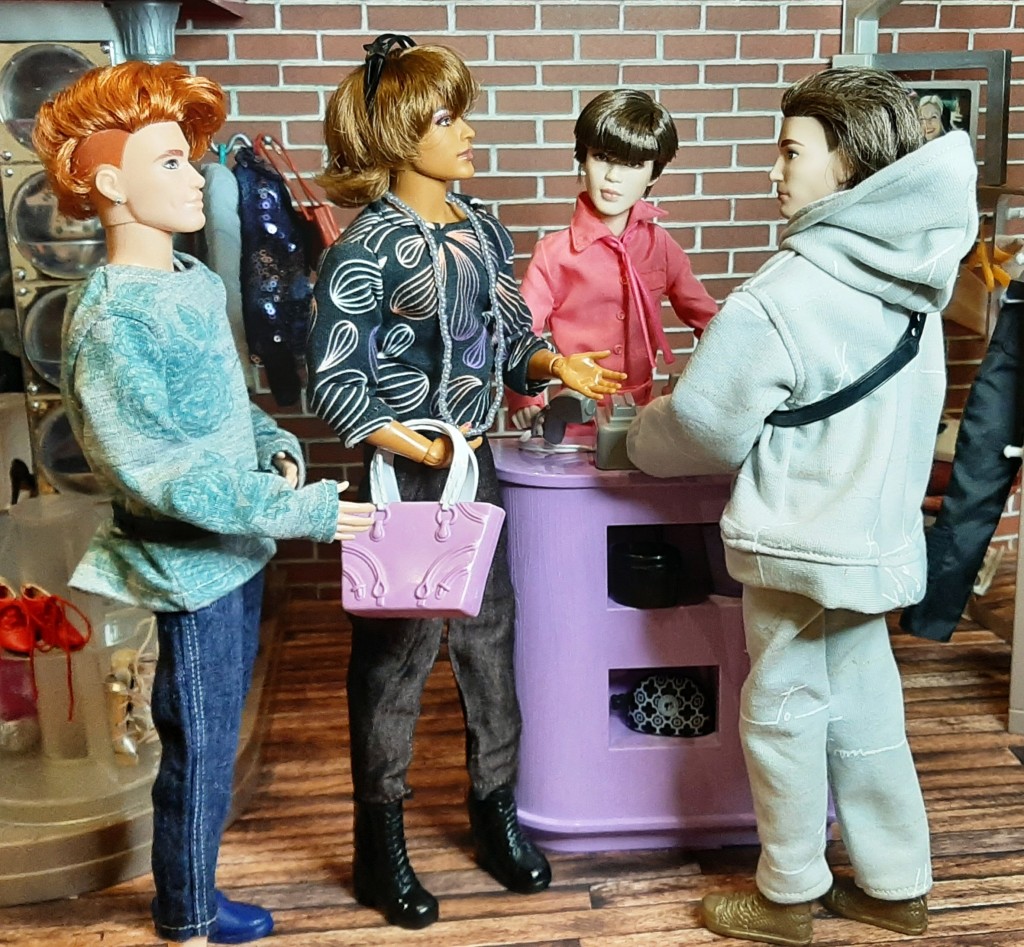 "Hey, Padraigh! Have you seen that cute Zombie over there?"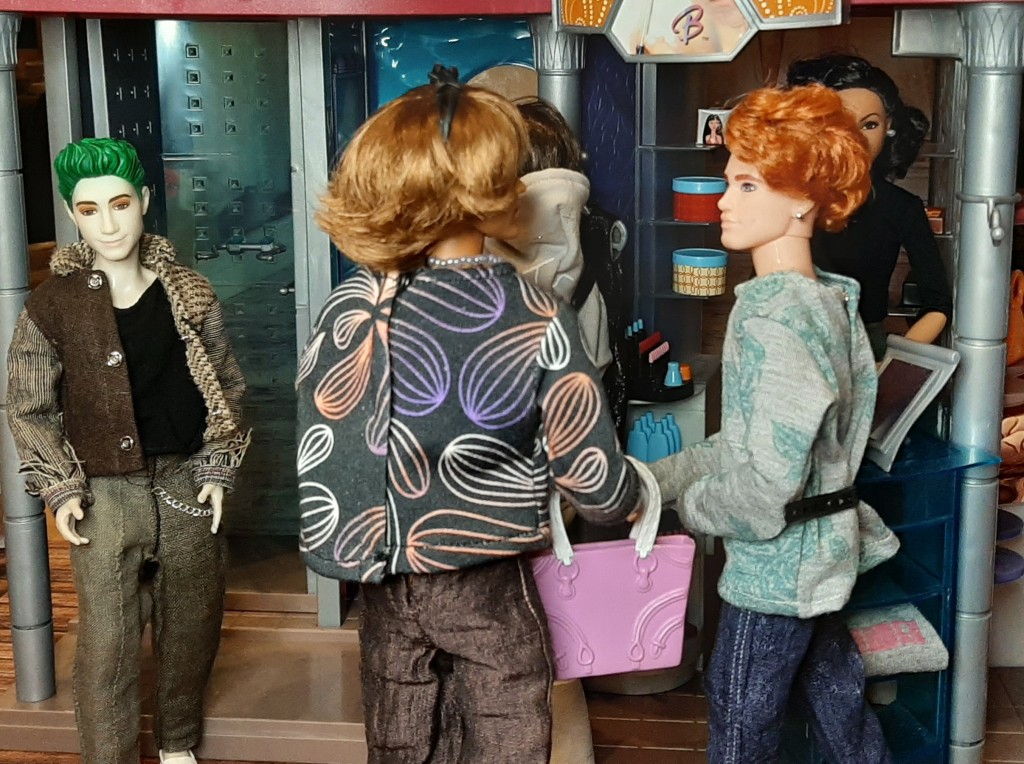 "Not worth trying Banquette! He´s already gotten himself a werewolf! See?"
"Pity!"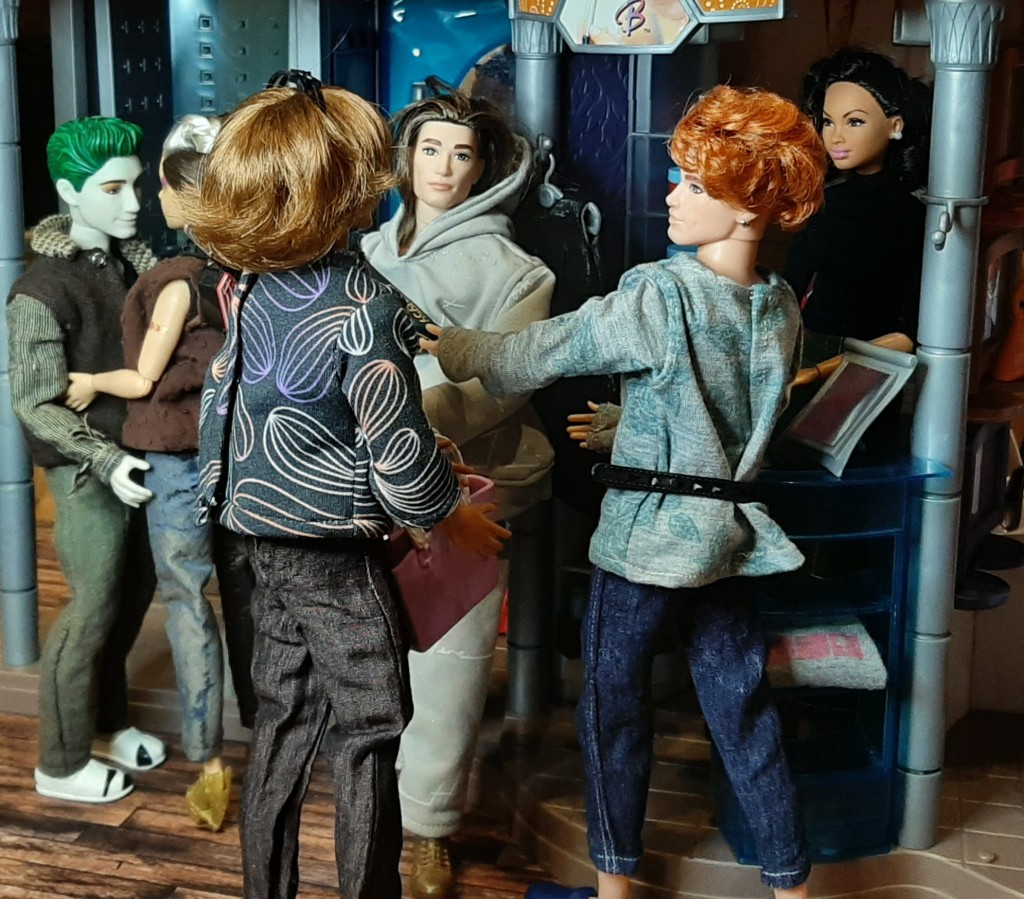 "Could you go up alone? I´ll join you later…."
"Where are you going?"
"Getting my hair dressed…."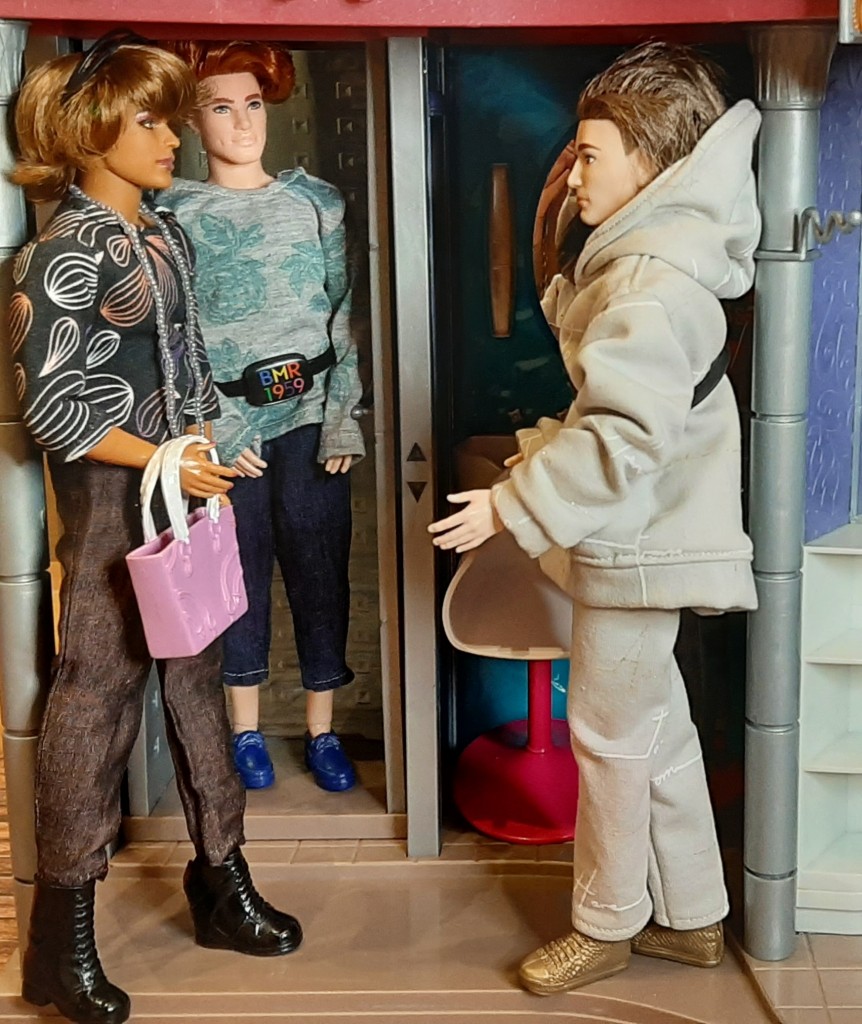 "Ok…See you later…."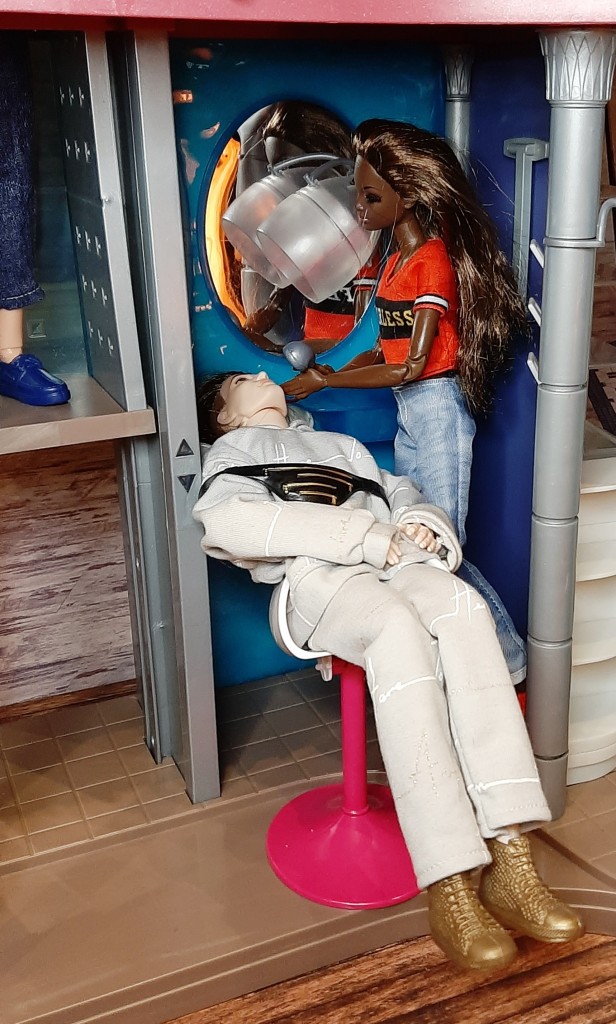 "Getting his hair dressed???? I´ve never heard him saying something like that! Usually, he´s not giving much attention for his hairstyle! He must be pretty serious about the girl!"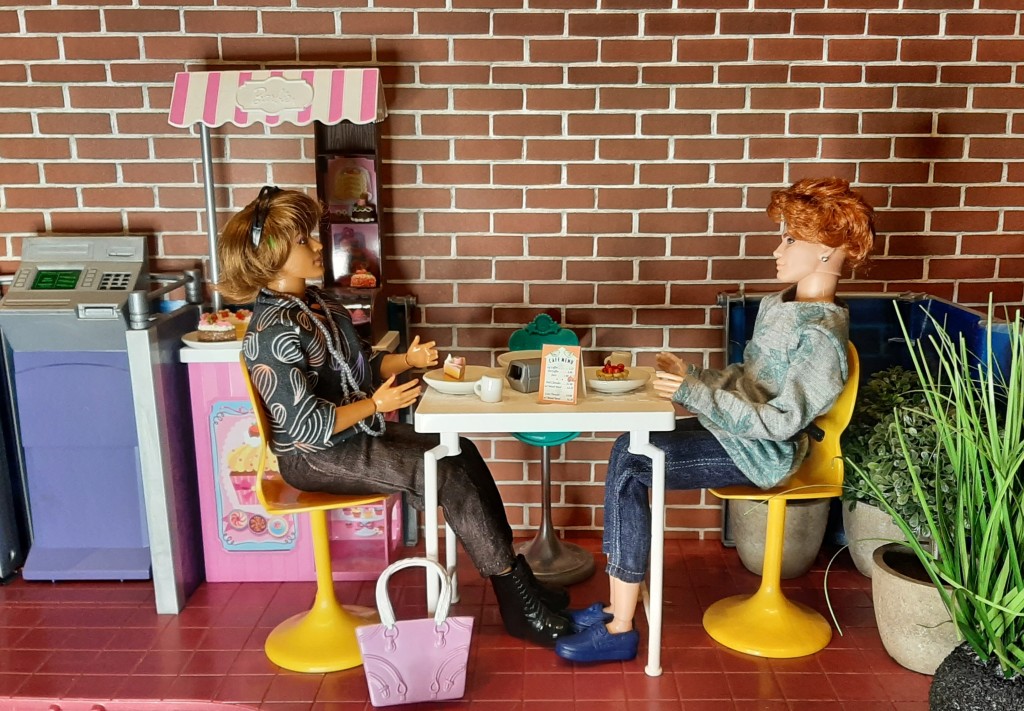 "He is. I´m curious, if we get to see that wonder-woman one day. He didn´t mention anything about introducing her to us."
"He murmured something about bringing her for grandma Iris´s birthday next week!"
"Oh, yes…Grandma´s birthday…I confess, I´m worried about my mom."
"Is something wrong with her?"
"She´s been dry since she joyned the AA….The group really did her good. But when Grandma talked her into coming to her birthday party and she heard, aunt Minerva will be there too, she lost her grip and I´m afraid, she will start drinking again."
"So why don´t she stay at home? Grandma will understand that!"
"I´m afraid not…You know, she can be really stubborn. And it´s her 70th birthday. She want´s to have all of her loved ones gathered around her that day…And even if she would finally understand…Mom is decided to fight against the fear, that always overcomes her, when she has to meet aunt Minerva! I couldn´t talk her out of it, no matter how I tried!"
"Minerva at the party….That´s no good omen, I would say…But…"
"Hey! Who´s that stranger over there? That hairdresser did a good job!"
"You really like it?"
"We do. And we´re sure, your "Juliet" will too!"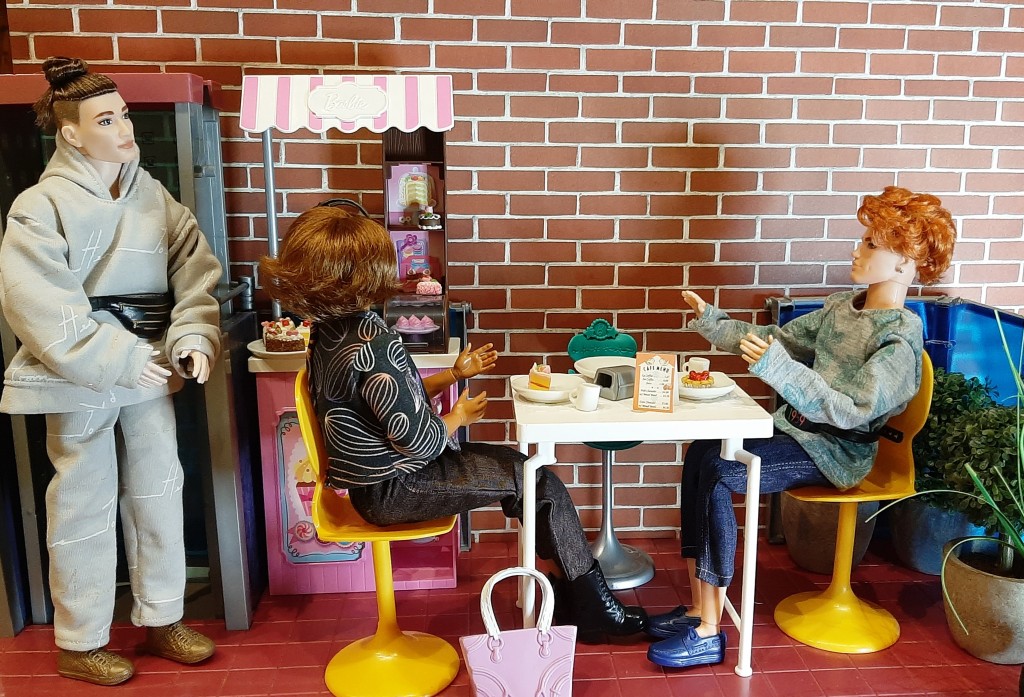 The first (and easier) part is done. Now our young "Romeo" can rest and enjoy a treat.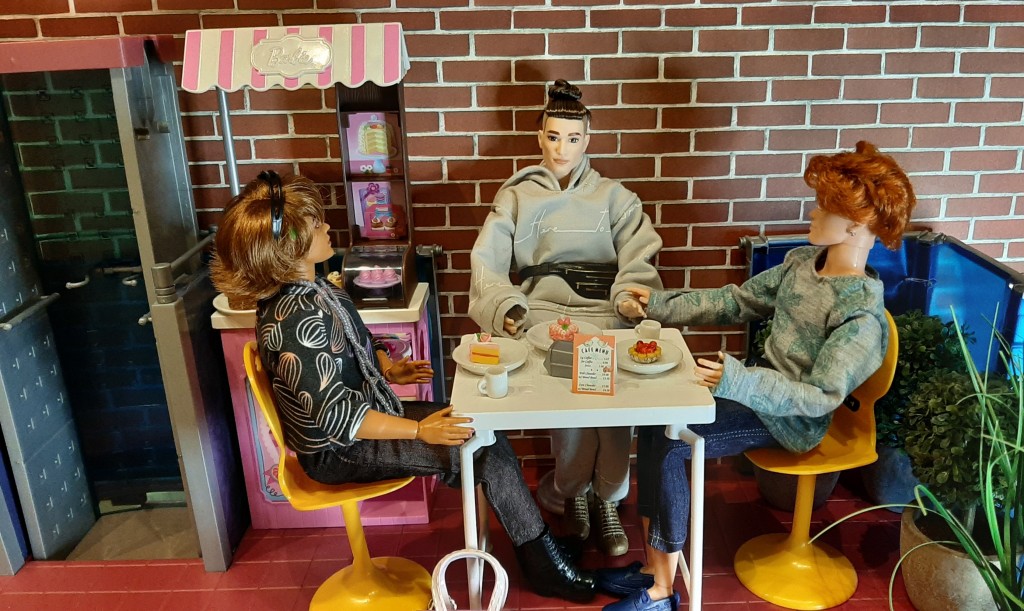 To be continued….
It was a piece of work, to deal with my "Barbie Fashion Show Shopping Mall" from 2004. I got it for a low price second hand and most of the original items are missing. So I had to replace them with some of the things, I collected in the last years.
I really love that posh little mall. Almost no pink! That´s rare for something Mattel! But nothing is perfect and so there are (like always)  a few little things, I need to complain about.
First: I love the elevator, but it takes far too much space. It would have been better, to place it on a side wall of the mall and make the hair dresser´s shop bigger. It´s almost impossible to work properly in that shop with such a small space and a crooked one on top.
The corridor leading from the entrance into the mall, is also far to small. Even children with tiny hands might have problems, to play with their dolls there. And it´s definitely not made for male dolls…They stuck and their heads touch the ceiling…
It was hard work, to place the items on the small shelves in the back of the corridor and work with the dolls, without tipping some things over.
The shop areas in common are extremely small.
The clothing-rails are separate from the mall. I would have prefered them to be attached to it, in the same way, some of the Barbie folding houses work. But that´s a minor problem.
My solution was to work with double-sided printed papers, usually used for model-building. So I could add some space on the outside of the actuall mall building and fake walls and wooden floors, where I needed them.
If you look very close, you will find BanQuettes wig doesn´t sit properly on her head and the neon-green flocking is looking through in one scene…No, I don´t tell you where. You have to look for yourself!
The "bathroom" scene was another thing…The sink and mirror ensemble was actually made for Ken. But if you put the doll right in front of it, you find out the mirror is to short and the whole construction to deep and low. All a "shaving fun" Ken would see, were indeed his throat, but not his face. And the head of the doll already looms over the edge of the mirror! The only solution was, to bend the doll forward, until it stood more like an ape instead of a human being. But in that position, it was possible to make the reflexion of the dolls face visible in the mirror.
As always, there are some mistakes in this play, but that´s the best I can do for now.