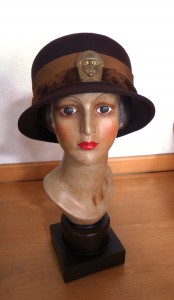 This Time I wanted to try an early  kind of cloche from the end of  the  Art Nouveau era. Fortunately  I posses a hat block around 1917-1920.
The stunning brass stamping is genuine Art Nouveau and was meant to embellish books. When I saw it first, I knew  it´s a must have for me!
It took me long to decide, which hat to garnish with and in the end it turned out to be this severe  piece of millinery. The brass stamping should be the only "actor" on the stage of this hat. No further decorations, but vintage petersham and velvet ribbons in a matching shade.